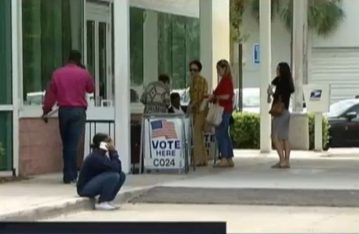 Sheriff's deputies in Broward County, FL were called to a polling location in Pompano Beach after receiving complaints of possible voter intimidation from both Democratic and Republican poll monitors.  The deputies were also tasked with keeping the peace after an apparent dispute erupted between the Republican and Democratic precinct clerks.
NBC 6 South Florida reports two poll watchers were removed from the polling location at the Herb Skolknick Community Center on Tuesday morning. Supervisor of Elections Dr. Brenda Snipes also reportedly fired the two precinct clerks at that location after they got into a dispute and she ordered replacements clerks to fill-in for the remainder of the day.
WATCH:
David Booth, the Republican clerk who was removed from the location,  told the news outlet that the dispute broke out after each side essentially alleged poll watchers were overstepping their authority and engaging in voter intimidation.
Have a tip we should know? [email protected]