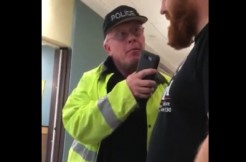 A University of South Alabama student was cited by campus police Wednesday for wearing an empty holster, according to a report by Campus Reform. D.J. Parten and a member of his pro-concealed carry club, Kenneth Tews, were in a school hallway promoting a showing for a film when cops approached them for an awkward standoff.
Officers questioned Parten, who was wearing a holster. They asked him several times if he had a gun on his person. You can see the incident in footage obtained by Campus Reform:
"This is a protest," Parten said at one point.
"Doesn't matter," the cop said. He later continued to ask the student where his weapon was.
It was a pretty tense meeting, with an assisting officer chewing out Tews.
"One, you got a knife in your right pocket," the officer said after he told Tews to take his hands out of his pockets. "I don't know if you're ever gonna draw it out. But I'm not gonna take it from you, but if you keeping being a smartass, we'll figure out something. It's for my safety as well as yours."
The first officer told Parten he'd be written up for wearing the holster without the school's permission, though the student disputed whether he'd need that permission at all. As Campus Reform pointed out in their report, the University of South Alabama prohibits firearms in their Community Standards page, but doesn't mention holsters as of April 14. He was charged with violating sections 7G and 7N of the Student Code of Conduct, the former of which prohibits "engaging in activities that threaten the safety of the campus community."
In a talk with Campus Reform, Parten, president of Students for Concealed Carry, said "This week is the empty holster protest for Students for Concealed Carry in Alabama to demonstrate that students are defenseless on campus." His organization is pushing for students to be allowed to carry concealed weapons on campuses.
[screengrab via Campus Reform]
–
Follow Alberto Luperon on Twitter (@Alberto Luperon)
Have a tip we should know? [email protected]