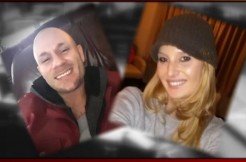 A couple accused of a multi-state crime spree got in a deadly shootout with authorities early Friday morning, according to the Santa Rosa County Sheriff's Office. Blake Fitzgerald, 30, was killed in a gunfight in Milton, Florida. Meanwhile, his reported girlfriend, Brittany Harper, also 30, survived shots to her legs.
We've written about these guys before. Harper and Fitzgerald reportedly went on a three-city crime spree in Alabama, going from Saturday night to Sunday morning. Alleged robberies, kidnappings, and a car theft, though no injuries were announced. Local police wondered if the two would make their way to Florida. Since then, there was an alleged robbery in Perry, Georgia (which also involved a kidnapping), and they're also suspected of two similar, more recent incidents in Florida.
Media outlets, including us, have compared them to Bonnie and Clyde, but those comparisons turned out to be way too apt. With Fitzgerald dead, Harper is in a bad way legally speaking. We're talking about multiple charges across at least three states, obviously.
On one hand, she doesn't have much of a criminal record. Just one reported incident. Missouri cops simply accused her of failing to use a turn signal. Meanwhile, Fitzgerald gathered at least 100 alleged charges. Even so, Harper's social media use might hurt her since she apparently teased police on her Facebook page. "I wasn't planning on going for a run today…but those cops came out of nowhere," she wrote, according to Good Morning America. This could be used as evidence against her, as a prosecutor could argue she was a willing participant in the alleged spree.
[h/t NBC 12]
[image via screengrab]
–
>> Follow Alberto Luperon on Twitter (@Alberto Luperon)
Have a tip we should know? [email protected]