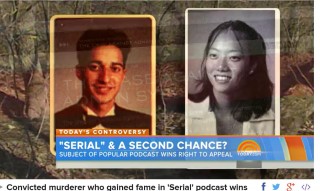 Adnan Syed, whose murder conviction was questioned in the popular audio series Serial, is expected back in a Maryland court this morning. A judge could decide very soon (maybe by end of day) whether to grant him a new trial. His entire appeal is based upon the defense's claim that an alibi witness was never allowed to testify during the trial, cell phone data was flawed, and Syed's original trial lawyer was ineffective.
The 34-year-old is serving a life sentence in prison after being convicted for the 2000 murder of his former girlfriend Hae Min Lee. A Baltimore Circuit Court judge granted his request to open post-conviction proceedings in November, and to add testimony of a alibi witness — Asia McClain. Syed's attorney believes adding her testimony will lead to a retrial.
In an signed affidavit, Ms. McClain claims she had seen Syed in a library when Lee was allegedly murdered.  Syed's attorney says that he should get a new trial because his former attorney never called McClain during the original trial. The state prosecutor argued that Syed received a fair trial.
Syed's defense is also raising questions about cell phone data used to convict him. They  say that data given to a jury did not include a fax cover sheet warning that data referred only to outgoing calls (incoming was not reliable).
[h/t New York Times, ABC News, screengrab via NBC News]
Have a tip we should know? [email protected]
Rachel Stockman - President / On Air Host