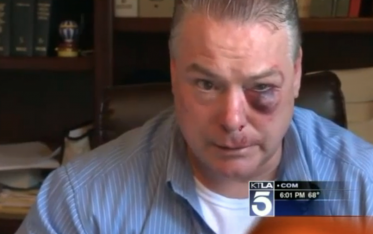 What began as an alleged argument between a well known Orange County, CA defense attorney and an unidentified investigator for the Orange County district attorney's office suddenly erupted into bloody physical altercation on Wednesday morning at a courthouse in Santa Ana.
According to the Los Angeles Times, defense attorney James Crawford was meeting with a client at the courthouse when the investigator approached him and allegedly remarked that defense attorneys were "sleazy."  Crawford reportedly replied that defense attorneys were no worse than the district attorney's office, which, according to the LA Times, has recently been involved in a deepening scandal over the alleged use of unreliable informant testimony.
Crawford's attorney told the paper that as Crawford tried to walk away, "[t]he investigator then grabs [Crawford's] head and slams it into the bench and then punches him like 10 times in the face and head."  Sheriff's deputies and police officers at the courthouse had to intervene to pull the investigator off Crawford, according to the report.
Crawford immediately filed a police report and several witnesses who happened to be in the hallway at the time of fight also reportedly provided statements to officers about what they saw.  According to KTLA, several of the witnesses also described the investigator as the aggressor in the altercation.
Crawford's attorney also told the LA Times that he believes Crawford's representation of some of the defendants with cases potentially affected by the D.A.'s office informant scandal might have had something to do with the fight.
A visibly bruised and bloodied Crawford appeared on KTLA a few hours after the altercation where he again described the altercation in his own words.
WATCH via KTLA:
[h/t LA Times; image via KTLA screengrab]
Have a tip we should know? [email protected]