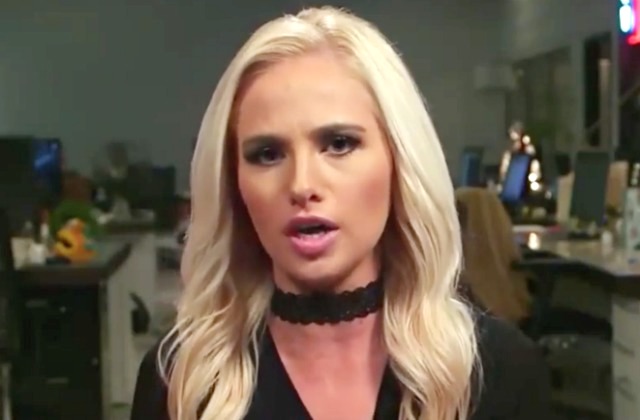 I know it is hard to do, but just for a moment, you will have to remove politics from this story to understand why Conservative media star Tomi Lahren likely will have a tough case against her former boss, Glenn Beck, and his network The Blaze. As appalling as some might feel it is, Beck, and his company maybe within their legal rights, and Lahren's contract to fire — or "ban her permanently" after she expressed her pro-choice views on network television. (note: The Blaze contends that she is still being paid, and technically hasn't been fired)
As we reported earlier on Friday, the wrongful termination lawsuit came after Lahren made the controversial remarks on The View. Lahren told the hosts "I can't sit here and be a hypocrite and say I'm for limited government but I think the government should decide what women do with their bodies." Of course, Glenn Beck, whose company is based in Texas, was apparently disgusted by the remarks which he thought were intellectually dishonest and go against core conservative principals for which he's based his reputation on. Yes, Lahren has a First Amendment right to speak her mind, but she's also entered into a talent contract with The Blaze. And, as part of that talent contract, she's agreed to abide by certain conditions. One of them is what might be troubling for Lahren in her pursuit of justice against her former company. It gets a little technical, but I'll break it down.
Lahren's employment contract states, according to the lawsuit filed in Dallas County Court, that Beck can ONLY fire her for any of the following reasons:
(b) For any of the following: (i) Employee's indictment for a felony; (ii) Employee's inability (with or without accommodation) or repeated failure to carry out, or neglect or misconduct in the performance of, Employee's duties hereunder or a breach of this Agreement; (iii) Employee's failure to comply with applicable laws with respect to the conduct of TBI's business; (iv) theft, fraud or embezzlement resulting in gain or personal enrichment, directly or indirectly, to Employee at TBI's expense; (v) addiction to an illegal drug or un-prescribed controlled substance; (vi) conduct or involvement in a situation that brings Employee into public disrespect, offends the community or any group thereof, or embarrasses or reflects unfavorably on TBI's reputation; (vii) Employee's repeated failure to comply with the reasonable directions of senior management; (viii) an event of "Force Majeure" (as such term is understood in the entertainment industry) however, in the event of Force Majeure, TBI shall only have the right to suspend Employee and if such suspension exceeds three consecutive weeks Employee shall have the right to terminate this Agreement; or (ix) if TBI discontinues operations. (emphasis added)
The bold clause is what you need to pay attention to — specifically that she can be terminated or suspended for any conduct that "offends the community or any group thereof." It goes without saying that many are offended by those who express pro-choice views which they believe to be immoral and against their fundamental values.
"I think she will have a very tough case,"  Rosemarie Arnold, an employment law attorney told LawNewz.com "Although we are each entitled to our personal views, her employment contract is clear that they shouldn't be publicized if the would offend people. Especially now, in the present day political mayhem people are easily offended by an opposing viewpoint."
That clause could be the sticking point of the entire case. Beck's attorneys will no doubt try to prove that her statements "offend the community" or some people in it.
"Her stance could offend a 'group' of the community especially their audience so that might be grounds to claim she breached the contract," attorney Mike Delikat, who heads Orrick's Global Employment Law Practice, said to LawNewz.com in an email.
"One could drive a large truck through that clause.  Question may be what level of disrespect, embarrassment, unfavorable reflection, or offense a judge will require to be proven," Keith Stein, a New York based contracts attorney told LawNewz.com. Stein, though, believes that Lahren could have a fighting chance.
At the very least, he thinks the case will proceed through any motion to dismiss by Beck's team. He continued, "[It could be] difficult for Beck to prove that it damaged TBI's reputation as a conservative network.  I am not familiar with the backlash, but can only imagine that it was spun crazily in TBI's favor and may have even increased following, given the controversy.  So, where are his damages?"
Overall, though, many attorneys would agree that this is not a slam dunk case for either side. The Blaze released a brief statement stating, "It is puzzling that an employee who remains under contract (and is still being paid) has sued us for being fired, especially when we continue to comply fully with the terms of our agreement with her."
Have a tip we should know? [email protected]
Rachel Stockman - President / On Air Host