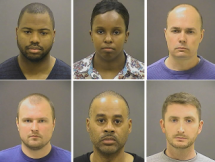 The trials of five of the Baltimore police officers charged with the murder of Freddie Gray have been postponed pending an appeal of whether the sixth officer, William Porter (pictured on the top left), can testify against the others.
Gray died last April from injuries sustained while in the officers' custody. The cops allegedly threw Gray into the back of a police van, handcuffed but not buckled with a seat-belt,  after an arrest for possession of an illegal knife. Prosecutors claim that the officers then delayed in getting Gray medical attention.
Porter, whose case was heard first, had a mistrial. Prosecutors for the other cases had planned on using Porter to testify against the other cops, but now that he faces a new trial, his attorneys claim that his Fifth Amendment right not to incriminate himself kicks in. Circuit Court Judge Barry G. Williams held that Porter may testify against Officer Caesar Goodson and Sgt. Alicia White, but not against Officers Edward Nero and Garrett Miller, or Lieutenant Brian Rice.  Prosecutors are appealing the decision not to allow Porter to testify at Goodson and White's trials.
The Maryland Court of Appeals will hear oral arguments on March 3.
[h/t The New York Times, image via Baltimore Police Department]
Have a tip we should know? [email protected]