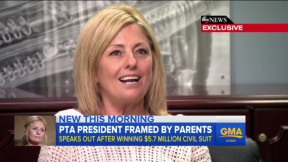 Kelli Peters, an Irvine, California PTA President framed for drug possession by other parents, won $5.7 million in damages against her accusers six years after Jill and Kent Easter made accusations against Peters when their son was picked up late from school.
Mr. Easter called the police using an alias, alleging that Peters was using drugs. Cops found drugs in her car, but the Easters' DNA was found on items in the vehicle. The call was traced to a Newport Beach hotel, where security footage showed Mr. Easter to be present.
Peters was cleared, and the Easters faced criminal charges for the false allegations. Jill Easter took a plea deal, and Kent was slapped with 180 days in jail after denying wrongdoing during the criminal proceedings.
Mr. Easter eventually admitted to planting the drugs during the civil trial. "He also said 'Kelly didn't do anything to my son.' It was all made up," a relieved Peters said in an interview with ABC News. "It's…finally all over."
[h/t and screen grab via ABC News]
Have a tip we should know? [email protected]