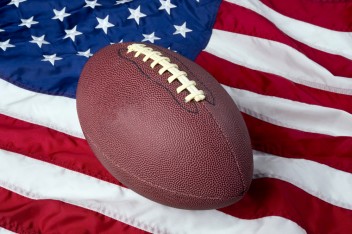 A controversy broke out over bringing flags to a Friday night high school football game in Greenville County, South Carolina.  As the information about the flag policy spread quickly around social media, several of the principals at the high schools had to release statements to calms down fans.
According to WNCN News, Greenville County Schools on Saturday released a statement saying it "encourages and supports the appropriate display of the United States Flag in accordance with the United States Flag Code."  However, the statement added the District "[does] not condone the use of the Flag to shield unsportsmanlike or inappropriate conduct."
As students and spectators arrived at the game, almost immediately social media led backlash quickly overshadowed anything else and the media jumped at the chance for a hot story.
According to Hunter Ballew's Facebook post, Travelers Rest High School Principal Lou Lavely, informed Ballew he was not allowed in with an American flag inside the stadium.  Ballew's referred to it as another example of too much political correctness.
According to the news outlet, however, Principal Levely disagreed with Ballew's assessment, saying his concern was to "not allow the American flag to be used in an improper 'taunting,' unsportsmanlike manner."
Berea High School Principal Mike Noel issued his his own statement in support of Lavely, reading, in part:
I am in full support of Mr. Lavely's actions at the football game on Friday night. He was protecting the greatest symbol of our nation, the American Flag. His decision was based on the premise that the American flag should not be used in a disrespectful or unsportsmanlike like manner. He made the right decision.
A final statement about the matter was released by Travelers Rest Police Chief Lance Crowe who he wholeheartedly agreed with the principals.  Crowe said there is a time and place to disagree with these kinds of decisions, but a high school football game is not the appropriate place.
"There is a time and place for expressing a difference of opinion and the entrance to the football game just wasn't it at the time in question," Chief Crowe said.
Given the passion on both sides, it does not seem the issue is going away anytime soon.
Have a tip we should know? [email protected]