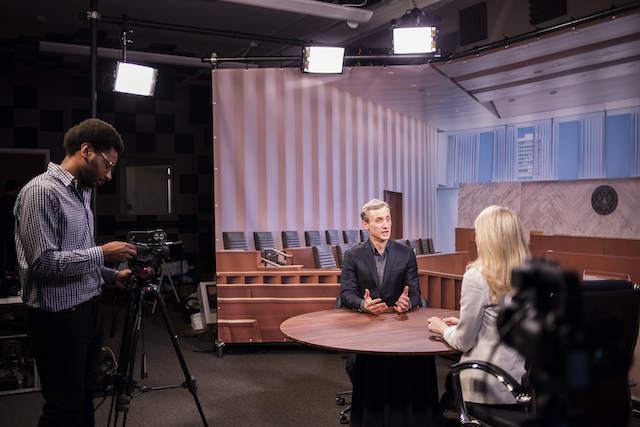 As was reported in The Hollywood Reporter this morning, LawNewz is thrilled to announce the launch of LNN (Law Newz Network), a live trial online video network which will launch on Monday, February 27. Inspired by my years at Court TV, we have assembled a top notch team of legal anchor/reporters who will be taking viewers through the highest profile trials live as they unfold.
They include, among others, former Court TV/CNN reporter and former prosecutor Beth Karas, Attorney and regular Fox News legal guest Heather Hansen, Attorney, Legal Commentator and LawNewz columnist Elura Nanos and attorney/reporter Aaron Keller who became best known for his work during the "Making A Murderer" trials of Steven Avery and Brendan Dassey.
LawNewz.com, under the leadership of Yale Law graduate and long time reporter Rachel Stockman, has established itself as a go to venue for smart legal analysis and coverage of the legal stories of the day. The LawNewz team of reporters including attorneys Ronn Blitzer and Chris White will also contribute to the network which will cover live trials as well as breaking legal news of the day.
LawNewz, which launched last year, is already welcoming almost 2 million unique visitors per month, and add to that the promotional power of Mediaite.com and its 12 million monthly unique visitors and the new network will immediately be one of the most significant legal media properties in the nation.
In fact, LawNewz has already been offering livestreams of trials including the Justin Ross Harris "hot car death" trial, the murder trial of police officer Ray Tensing, accused murderer Lester Jones, and the murder solicitation trial of Dalia Dippolito. Those cases, garnered approximately 3 million views each with little promotion.
The network will broadcast from a just completed new set built by nationally recognized designer George Allison and lighting specialist Dennis Size near the Abrams Media Herald Square office in New York City.  In addition to live coverage of the myriad of legal issues arising from the new administration, the network will launch with the controversial rape and assault trial of Nevada v. War Machine (the legal name of the MMA fighter) beginning February 27, the ongoing "Stand Your Ground" hearing of Curtis Reeves who killed a man in a movie theater after a fight over texting, the double murder trial of former New England Patriot star Aaron Hernandez which begins March 1, and the ongoing Michigan trial of Kelly Marie Cochran accused of being involved in the brutal murder of her ex-boyfriend.
LawNewz livestream director Anthony Velez, will continue to oversee all technical aspects of the network which will be live for at least 8 hours per day five days a week and expand from there.
[image credit: Anthony Velez]
Have a tip we should know? [email protected]
Dan Abrams - CEO and Founder