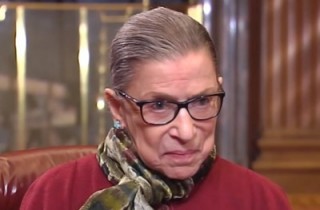 U.S. Supreme Court Justice Ruth Bader Ginsburg is on a bit of a roll as of late. During the election, she made a series of controversial statements in which she called Donald Trump a "faker" and even went so far as to say "I can't imagine what this place would be—I can't imagine what the country would be—with Donald Trump as our president." (she later apologized).  But on Tuesday night, Ginsburg  took her political protest of the president one step further when she decided to no show President Trump's first speech to Congress. It is quite clear that her decision not to attend this year was not a scheduling conflict. Given her public sentiments during the election, this decision was purely a political one.
Now, it is not entirely unusual for a Justice to skip out on a State of the Union speech. Alito, keeping with tradition, has refused to attend a speech since 2010 when Obama criticized the U.S. Supreme Court decision in Citizens United. He didn't deviate this year.  Thomas was also a no show. But, that's also not unusual for him. He hasn't attended since 2009 saying that because of the political nature of the speeches, he felt it "uncomfortable for a judge to sit there." While you might not agree with their decisions (I don't), at the very least, you can say that the conservative leaning justices are sticking to their principles even during a Republican administration.
Justice Ginsburg is different. If history is any indication, she only refuses to attend when the President is a Republican. According to Bloomberg, Ginsburg, a Clinton appointee, also skipped all of President George W. Bush's speeches. But, she was there for all eight of President Obama's speeches, even giving him a hug before he gave his remarks.  And while, she may have fallen asleep once or twice as President Obama carried on, she made it a point to be there. Her decision this year to forfeit Trump's speech was deliberate.  By doing this, Ginsburg sent a troubling message to those who still believe justices should remain above partisan politics. Before she made this decision, she'd come under intense scrutiny by even liberal leaning lawyers, many of whom believed her remarks during the election crossed the ethical line.
"Although she began speaking out more openly as the decades passed, she reached her low point in a stunning interview last summer in the New York Times (where else?). Her comments were as openly political as any justice has been in my memory—perhaps ever," Judge Laurence Silberman from the U.S. Circuit Court of Appeals for the District of Columbia, wrote in a recent opinion piece. Her decision not to attend President Trump's speech only gives her critics more fodder to rest their case on.
From a legal perspective, the Justices have no obligation to show up. The Constitution only says the President "shall from time to time give to the Congress Information of the State of the Union." In our founding document, there is nothing about who should attend, what the President should talk about, or where it should be held. That said, for decades, the Supreme Court Justices have made it a point to show up. That's changed in recent years.
According to Supreme Court experts, including my former Yale Law professor Linda Greenhouse, The New York Times reporter who covered the Court for nearly 30 years, the change apparently started when Justice William Rehnquist was notably absent during one of President Jimmy Carter's State of the Union Addresses. His explanation was as forthright as it is amusing: He intended no slight to the president, but "it was just that the speech occurred on the same night as his painting class at the Arlington recreation center."
Roanoke College Professor Todd Peppers co-authored an interesting study which documented the dwindling attendance of the Justices. 1965 through 1980 the attendance rate was 84 percent. Over the next two decades, the number fell to 53 percent. And in the 2000s, for three years, only Justice Stephen G. Breyer attended, according to the study. But, Justice Ginsburg's decision not to attend Trump's speech seems to have elevated this debate to a whole new level.
Ginsburg has an impeccable and distinguished record on the U.S. Supreme Court including helping to legally shape abortion rights and equality for women and minorities in the United States. She's known for her thoughtful, well-reasoned decisions, and her ability to persevere. She's paved the way in so many ways, and earned the respect of so many. Decisions like this will only give her opponents more to criticize, and, can't possibly serve her well in the long term.
This is an opinion piece. The views expressed in this article are those of just the author.
Rachel Stockman - President / On Air Host