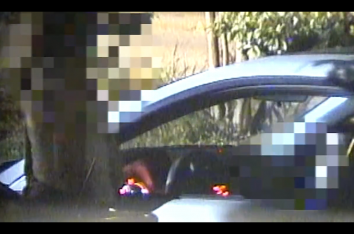 A police officer in Boynton Beach, FL has been fired after officials say an investigation revealed he offered a woman he thought was a prostitute $20 for oral sex, but she was actually a cop working undercover as part of a prostitution sting operation with the Palm Beach County Sheriff's Office.
According to a report published late Tuesday in the Sun-Sentinel, Vintyre Finney, 32, was officially fired from the Boynton Beach Police Department on April 11, although he had been on paid administrative leave since October 2015 when he was allegedly caught up in the prostitution sting.  The Sun-Sentinel obtained a copy of Finney's termination letter, which faulted him for his refusal to cooperate or give a statement to investigators.  The newspaper says Finney lawyered up and exercised his right to remain silent. They report:
"Since neither you nor your attorney presented your version of events to me, nor did you provide me with other information which would constitute a defense or mitigation, or would refute or explain the facts which gave rise to the charges or the reasons for the action, I am left with only the information … to consider," Boynton Beach City Manager Lori LaVerriere wrote in the letter. "The video evidence in this matter is clear that you violated the city rules as alleged."
Officials who investigated the incident determined that Finney should be fired for conduct unbecoming a police officer and conformance to law, both violations of department policy.
Officials on Tuesday also released video of the alleged incident that was captured on police cameras. It reportedly shows Finney, who has been married since 2012, sitting in the driver's seat of his vehicle while allegedly attempting to negotiate the price for oral sex from the undercover cop who he believes to be a prostitute.
Here is the Sun-Sentinel's recap of what is seen and heard on the video:
"Whatcha looking for tonight?" the alleged prostitute asked as she stood at the window of Finney's car at 8:35 p.m. on a Saturday night, a video clip of the interaction showed.

The married officer's response was muffled and inaudible on video, but according to a police report, Finney said: "If I know you had all that thickness, I would've said what's between the legs but you got a good head on your shoulders and I can deal with that too."

"Looking to have some fun then? the woman next asked. She followed up with "You got cash on you?"

After Finney confirmed that he had money on hand, she gave him directions from their Lake Worth location in the 1800 block of South Dixie Highway to a nearby apartment.
Finney was also charged criminally with one misdemeanor count of soliciting a prostitute, according to the report.  He entered a not guilty plea on March 1 and is scheduled to appear in court again in Palm Beach County on May 13.
Video of the incident can be viewed HERE via the Sun-Sentinel website.
[image via screengrab]
Have a tip we should know? [email protected]