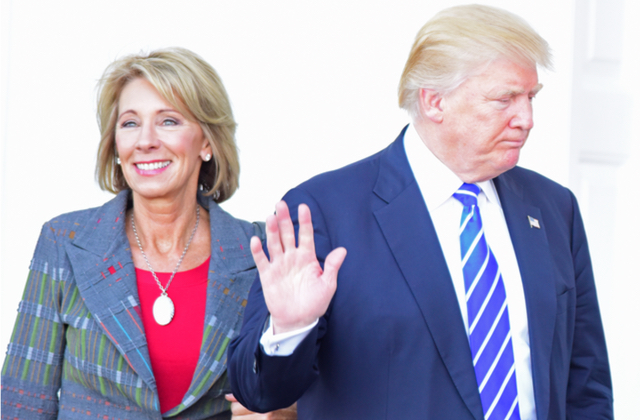 The confirmation of Betsy DeVos as Trump's Education Secretary was like Nicole Kidman's SAG awards gown: there's so much wrong that it's hard to know where to begin. Given that education is primarily a local matter, the effects of Ms. DeVos' leadership likely won't be immediately apparent in classrooms across the country. But concerned parents and teachers are on guard for what DeVos' confirmation, courtesy of Mike Pence, will mean to them.   She may not be putting guns in every classroom to guard against grizzly bears (yet), but there are definitely some reasons for us to all to be troubled:
DeVos has no idea about IDEA.
The disability community has a strong ally in the Individuals with Disabilities Education Act ("IDEA"). When parents attend an IEP meeting to plan for their child's special educational needs, they do so with a federal guarantee that their school district must provide their child free appropriate public education. Without IDEA's mandate, school districts could offer special education services on a "take it or leave it" policy. Of course, DeVos can't single-handedly dismantle IDEA, but her complete lack of knowledge may mean that she directs agency policy in a way that is as detached from IDEA as she is.
Special Education Lawyer and partner at Reisman Carolla, Amelia Carolla, warned:
"DeVos' inability to even recognize that IDEA is a federal law that covers all children with disabilities is extremely concerning to parents of children with special needs.  As Secretary of the DOE, her duty is to enforce IDEA, but the agency could be responsible for providing some policy interpretations.  Theoretically, this means that the department's policies might interpret regulations or laws in ways that do not adequately support children with special needs.  If that happens, special education lawyers, like many other civil rights lawyers today, will become the new first responders to ensure that the checks and balances we have work."
Many education law experts, such as Jerry Tanenbaum, attorney at Mattleman, Weinroth & Miller who represents children and families in school-related issues in New Jersey and Pennsylvania, worry that DeVos' confirmation will lead to further erosion of special education standards as a DeVos-led Department of Education fails to issue appropriate guidance to states and districts:
"The federal mandate to educate these children is already set at a fairly low level, and school administrators place significant pressure on Congress to lower those standards whenever they can. Ms. DeVos indicated at her hearing that she was not even aware that there was any federal educational mandate — which shows that these children are certainly not a priority for her.   Federal support in the form of guidance letters and enforcement has been critical in maintaining even the low level of services we can obtain for these children now, and I fear they will drop even lower under [DeVos'] leadership."
DeVos isn't someone who has the wrong philosophy on how to implement IDEA's requirements, or someone who has unpopular views on how IDEA should be amended. She is simply clueless about the entire system of special education. There is a serious risk that Trump-era DOE policy will reflect that overall lack of interest in our children with special needs.
She may allow federal student loan money to go to fake colleges.
One of the most obvious criticisms of DeVos has been her starring role in pay-to-play politics. She's rich, she gave money to the GOP, and she got confirmed despite being amazingly unqualified and dismally unprepared. While nepotism is nothing new in political spheres, DeVos' confirmation hearing revealed that she may apply DOE rules in a manner that also gives an unfair advantage to the deep-pocketed and unqualified. In this exchange with Senator Elizabeth Warren, Betsy DeVos refused to promise that she would enforce the "Gainful Employment Rule" which guards against waste, fraud, and abuse from for-profit colleges.
Non-enforcement of the rule will mean that potentially fake "colleges" and "universities" (like, ahem, Trump University) can accept federal student loans for tuition without accountability. Students and families will borrow thousands to pay for an "education" that fails to deliver in any measurable way. Without meaningful enforcement of any educational standards, there is serious danger that for-profit "colleges" will defraud individuals, families and the federal government in the same way Trump University did.
She also might help create and fund sham K-12 schools.
States create their own frameworks to hold schools accountable for delivering education to students. The DOE's job is to approve those state plans. DeVos is in a position to rubber-stamp every state's accountability plan, which might allow all sorts of test-score shenanigans. That's a legal environment ripe for K-12 versions of Trump University. "Charter schools" (privately-run K-12 institutions that receive federal funding) operating without the need for any accountability have the potential to grab federal dollars, line their owners' pockets, and deprive our kids of educations.
Education expert Jessica Smock explained:
"The fear is that Betsy DeVos would do for the nation what she did for Michigan: back policies that would allow for charter schools, administered by for-profit companies, with little to no government oversight. In the past, she has worked against legislation that would prevent poor-performing charter schools from expanding. Most Americans just do not support the kind of radical change that DeVos envisions: passing laws that would allow public tax dollars to be used for private schools or for-profit charter schools. In Michigan, the programs that DeVos supported resulted in student test scores, which were significantly lower than the rest of the state." 
4. She might ensure that poor kids get lousy educations.
DeVos has been clear that she will push school-voucher programs. Most experienced educators agree that we should do as much as possible to make as many schools as possible as good as possible. Those who favor school vouchers fundamentally disagree with such a philosophy. Under voucher programs, students will permitted to attend the school of their own choosing. Such a plan might be great fun for middle-class suburban kids choosing to go to the middle school with the best soccer team versus the one with the best drama club. But for low-income families living in disadvantaged neighborhoods, the choice will be a dismal one. Students can stay in their crumbling, local schools, or can travel across town to be outsiders at a "better" school. Every bit of research done on voucher programs shows that they simply do not work. Bad schools get worse, poor students get a poor education, and education becomes the ultimate luxury, affordable only by the privileged.
5. She'll make the handling of college sexual assaults a lot worse for everyone.
Sexual assault on college campuses is a huge problem. This is not news (see, e.g. Brock Turner, David Becker and Austin James Wilkerson). One of the powerful tools we now use to combat sexual violence on campuses is Title IX, a federal law requiring schools receiving federal funds (read, all schools) to provide equal access to education to both genders. Since rape victims aren't exactly getting "equal access" to their educations, any schools lacking robust programs to combat campus sexual violence risk losing their funding. Ms. Devos doesn't seem so keen on the idea of holding universities to any kind of accountability, so there's certainly no guarantee that she'll continue the Obama administration's efforts to strengthen campus response to sexual assault.
And it's not just victims' advocates who are worried. Even experts focused on rights of those accused of sexual violence have significant questions about Ms. Devos' leadership of the DOE.  In 2011, the Department of Education issued a "Dear Colleague Letter" ("DCL"), which mandated procedures for universities handling sexual assault cases.  Victims' advocates hailed the letter as a victory, but others have expressed ongoing concern that the letter failed to establish important due process rights for those accused of sexual violence. DeVos will have the opportunity to decide whether to keep the DCL or roll it back.
There can be no question that balancing campus safety with due process is a complex and nuanced matter – and one that absolutely requires a leader with a real understanding of law and an absolute commitment to regulating in the best interests of all students. In her confirmation hearing, Ms. DeVos neither exhibited nor promised either.
The confirmation of Betsy DeVos is an alarming and unprecedented result of 2017 partisan loyalty.  As she moves forward to lead the Department of Education, we can certainly hope she makes smart choices that prioritize our children's interests.  But while rooting for someone to fail is counterproductive, recognizing failure is critical; DeVos' abysmal performance during her own confirmation hearing proved her unwillingness to prepare for this important post.  As an electorate claiming that education is an "important issue," we have no choice but to pay attention — now, closer than ever.
This is an opinion piece. The views expressed in this article are those of just the author.
Elura Nanos - Columnist & Trial Analyst, Law & Crime; CEO Lawyer Up