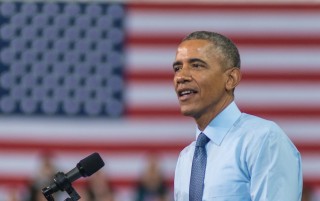 The Defense Intelligence Agency (DIA)'s social media handler got a little creative on Saturday, after President Barack Obama was refused the typical pomp and circumstance of foreign leader landing in a country, when he arrived in China on Saturday for a G20 summit meeting.
According to a New York Times report, when Obama landed, reporters were held back by guards, kept away from seeing the President exit the plane. "In six years of covering the White House," Times reporter Mark Landler wrote, "I had never seen a foreign host prevent the news media from watching Mr. Obama disembark. According to Landler, when a White House staff member told Chinese officials that this was against standard protocol, an official yelled back, "This is our country." Staffers and Secret Service agents also got into a heated dispute with Chinese officials over how many people could enter the West Lake State House before Obama arrived to meet with President Xi Jinping.
Government official was not happy that reporters were under the wing of AF1. WH press aide would not back down. pic.twitter.com/C3JRVIe37K

— Roberta Rampton (@robertarampton) September 3, 2016
Heated tempers at the G20 gate at West Lake. pic.twitter.com/rG4NFkbOZj

— Roberta Rampton (@robertarampton) September 3, 2016
Needless to say, not everyone was pleased.
Among those who didn't appreciate the treatment, apparently, was the DIA's social media handler. That night, the DIA's Twitter account posted a link to the Times article, with a sarcastic comment to go with it.
Defense Intelligence Agency bringing the snark to China (screenshot in case it gets deleted) pic.twitter.com/N7a8OHbuly

— Chris Brigham (@CJBrigham) September 3, 2016
The tweet was soon deleted, and the DIA posted the following apology:
Earlier today, a tweet regarding a news article was mistakenly posted from this account & does not represent the views of DIA. We apologize.

— DIA (@DefenseIntel) September 4, 2016
As far as the conflict between the two countries, Obama acknowledged that American practices of granting press access to the President does not always mesh with the customs of host countries. "It can cause some friction. It's not the first time it's happened," the President said. "It doesn't just happen in China — it happens in other countries where we travel. I think this time maybe, as Josh [Earnest, the White House Press Secretary] put it, 'The seams are showing a little more than usual,' in terms of some of the negotiations and jostling that takes place behind the scenes."
[Image via Shutterstock]
Have a tip we should know? [email protected]