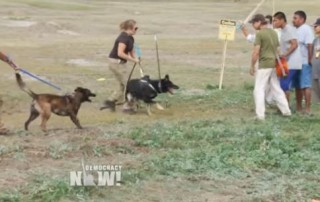 Construction on an oil pipeline in North Dakota was met with resistance from Native American protesters on Saturday. The Dakota Access Pipeline is estimated to cost $3.8 billion dollars and stretch over four states. Protesters at a construction site outside a Standing Rock Sioux reservation say that pipeline is destroying burial and cultural sites on private land. The clash turned bloody, with injuries reported on both sides.
The Standing Rock Sioux claim that the pipeline would pass through "sacred sites and burials." Protesters stood near the construction site as the crew began their work. But the demonstration did not stay peaceful for long. Donnell Preskey, spokeswoman for the Morton County Sheriff's Office, told NBC News that four security guards and two guard dogs were injured, with one guard being taken to a hospital, and one dog to a veterinary clinic. Standing Rock Sioux spokesman Steve Sitting Bear said that 30 people were pepper-sprayed, and six were attacked by the dogs. The crowd cleared when authorities arrived on the scene, and no arrests were made, Preskey said.
Video taken by advocacy group Democracy Now! captured some of the protest, with a number of protesters complaining of being attacked by dogs and pepper spray. Guards can be seen with dogs going after some of the protesters before the crowd eventually seemed to drive them off. A protester threw an object at one of the dogs.
Morton County Sheriff Kyle Kirchmeier said in a statement that protesters "crossed onto private property and accosted private security officers."
The tribe filed a federal lawsuit against the U.S. Army Corps of Engineers to fight the construction. They filed a motion for a preliminary injunction, and the court is scheduled to rule this week as to whether to halt the construction for the duration of the case.
[Image via screengrab]
Have a tip we should know? [email protected]