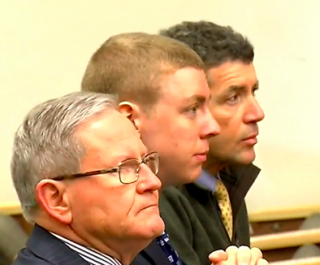 During a sentencing, when a convicted felon writes a letter to the judge, it is often to express great remorse for the crime, and to take full responsibility. Judges often factor this remorse in when doling out a sentence. Former Stanford University swimmer Brock Turner's letter to Santa Clara Judge Aaron Persky was the complete opposite. It is entirely devoid of any remorse or recognition for the serious consequences of what he had done.
Not only does he not take any real responsibility for his actions, Turner shifts the blame onto the "culture of campus drinking." He talks about the intense peer pressure he felt to drink and have sex from the much older, much cooler players on the Stanford University swim team. That's not an apology. That's an excuse.  Most sickening, Turner, who was convicted of three felony counts of sexual assault, goes on to say that the young woman he attacked back in January 2015 liked it and even consented.
He wrote:
I began to kiss her again and finger her until I thought she was satisfied with the sexual interaction that had taken place based on her moaning and the way in which she held onto me with her arms on my back. While this was occurring, I asked her if she was enjoying what I was doing, to which she gave me a positive response.
Never mind that the woman doesn't remember anything about this encounter. Never mind the fact that two witnesses saw him thrusting on top of her while she was unconscious. Never mind that when police found her, she was passed out and curled up in the fetal position with her dressed pulled up and her underwear removed. Never mind that the victim said that the only thing she recalls going inside her were hospital swabs, needles for shots, and then a camera pointed right into her spread legs during a rape kit.
Before the assault, Turner recalls the victim losing her footing while going down a slope behind the dumpster. She fell down, and he went with her. Did it ever occur to him at that moment that maybe she was too intoxicated?
What makes the letter even more unbelievable is the level to which Turner purports to remember the entire encounter. He admits to having at least five beers, and some swigs of 'fireball' whiskey throughout the night. He even says he was so drunk immediately after the sexual encounter, he needed to find a place to throw up. But, still, in meticulous detail, he is able to recall exactly what the victim said and what she did  — even though witnesses say she was passed out. It doesn't make sense.
What also doesn't make sense is how naive Brock Turner portrays himself to be. He paints himself as an Ohio boy, so sheltered that when he entered freshman year, he was shocked by campus drinking life.
"I was an inexperienced drinker and party-goer, so I just accepted these things that they showed me as normal," he said when describing the swim team's culture.  He was 19 years old.  He was old enough to understand right from wrong.
While Turner said he didn't mean "to hurt anybody," he describes a scene that frankly appears completely counter to reality.  Turner contends that he was not running away from the witnesses (as they claim), but instead he was trying to find a place to throw up. It was then when he says all of sudden he was pinned to the ground. He says he was the one screaming for help, and that he didn't know what was happening to him. When he was brought to the police station, he says he was completely confused. How could this be? He hadn't done anything wrong.
Stunningly, he said "I was in complete shock and disbelief during the entire process. I could only think of my family and getting in contact with them."  Nothing about the victim. Nothing about her family. He ended the letter recounting how what happened has changed his life, and how he thinks about it every day."I made a mistake, I drank too much, and I hurt someone," he wrote.  He also says he can never forgive himself for "imposing" pain on somebody else. But given, his prior account of what happened, it is hard to take what he said towards the end of letter seriously.
You can read his full letter here. 
Editor's Note: The author mistakenly omitted covering the last two pages of Turner's letter to the Judge. This article has been updated to include that section as well. 
Have a tip we should know? [email protected]
Rachel Stockman - President / On Air Host