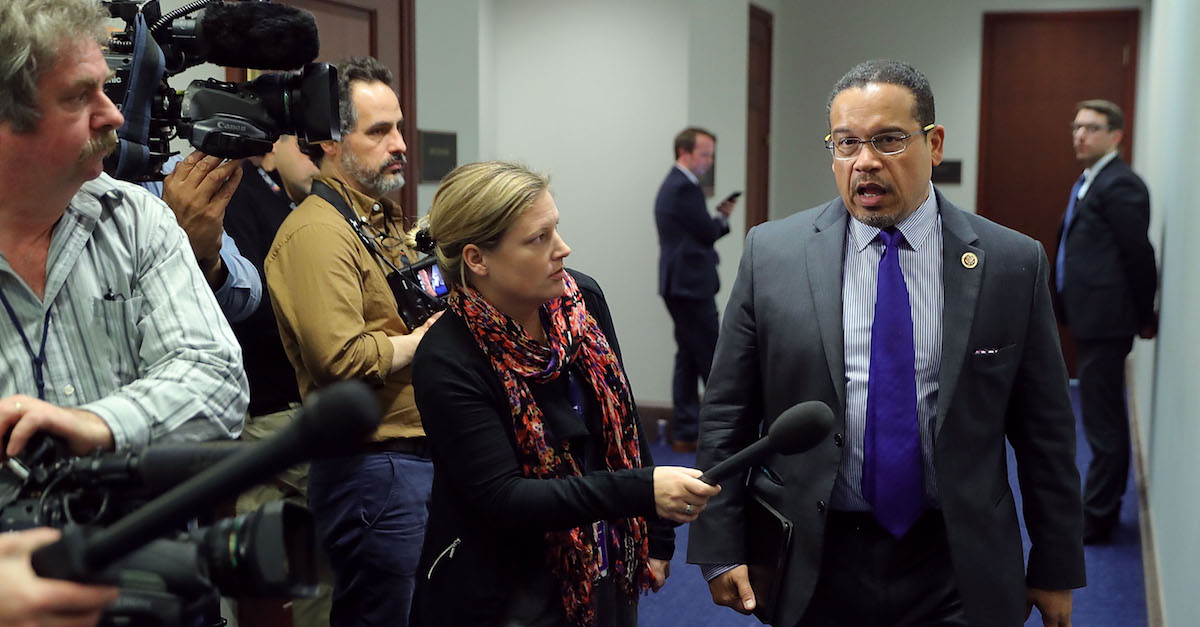 Minnesota's GOP Senate candidate is calling for an "immediate" investigation by state authorities into domestic abuse allegations against Representative Keith Ellison, who is the Democratic-Farmer-Labor (DFL) Party's candidate for attorney general.
Republican Karin Housley issued a statement saying the North Star State's attorney general is the most "impartial" office that could mount such an investigation–while rubbishing Ellison's own calls for a congressional ethics inquiry into the accusations. She said:
I'm calling for the Minnesota Office of the Attorney General to conduct an immediate investigation into the allegations of domestic abuse made against Keith Ellison. As the state's chief legal division, the attorney general's office can provide an impartial investigation into the serious allegations. Recent calls for a congressional ethics investigation, made by Keith Ellison and echoed by my opponent, amount to nothing more than political cover; Ellison will have left Congress by the time an investigation could be completed. These are serious, recent, and substantiated allegations that deserve immediate attention and raise significant doubts about Keith Ellison's fitness to serve as Minnesota's chief legal officer.
Housley isn't running against Ellison, of course, but appears to be singling out the attorney general candidate in a bid to channel Republican anger and shore up her base support. Housely is challenging recently-minted Senator Tina Smith (who took over the seat after Al Franken went into early retirement following multiple groping accusations earlier this year.)
Ellison's ex-girlfriend, Karen Monahan, has accused him of emotional abuse during their relationship, which she has termed "narcissist abuse" in one of the few media interviews she's given since the long-rumored-in-Minnesota accusations attained national stature after Monahan's son posted about them on Facebook.
Monahan also claims that on one occasion, Ellison pulled her off the bed while shouting and swearing angrily. And in that aforementioned Facebook post, Austin Monahan wrote:
My brother and I watched our mom come out of pure hell after getting out of her relationship with Keith Ellison. For several months we knew something wasn't right and couldn't figure it out…In the middle of 2017, I was using my moms computer trying to download something and I clicked on a file, I found over 100 text and twitters messages and video almost 2 min long that showed Keith Ellison dragging my mama off the bed by her feet, screaming and calling her a "fucking bitch" and telling her to get the fuck out of his house.
This alleged video has yet to appear in the media and its existence is hotly disputed by many observers of Minnesota politics. An internal DFL Party investigation–headed by attorney Susan Ellingstad—obtained by the Associated Press on Monday afternoon also determined that the video may not exist. According to Ellingstad's draft report, this conclusion is based on Monahan's unwillingness or inability to release the alleged footage and for shifting her stories as to why the disputed video has not been released.
Ellison denies the accusations and has previously taken out a restraining order against his ex-wife. In his race against Republican Doug Wardlow, Ellison currently has a slim lead.
Ellison's ex-wife, Kim Ellison, recently denied that he ever "abused [her] in any way before, during, or after our marriage." The comment was made after the Star Tribune sued to unseal their divorce records due to public concern about the allegations against Keith Ellison.
"Our divorce simply isn't the public's business, and therefore, when we separated, we jointly asked the court to seal the file," she said.
Housley's Monday statement also took the opportunity to bash Smith over the Ellison controversy by way of reference to the daily controversies engulfing embattled Supreme Court nominee Brett Kavanaugh.
"Tina Smith said Judge Brett Kavanaugh 'committed sexual assault' and called for a 'quick and thorough investigation' into the allegations made against him, despite the judge's repeated, emphatic denials, the statement notes, "But curiously, Tina Smith has chosen to believe Keith Ellison's 'categorical' denials, affirming her support for him and openly campaigning with him. It's time to put an end to the hypocrisy and give Minnesotans the clarity they deserve."
In a statement to Buzzfeed News on September 26, Ellison said, "Today I am announcing that I will submit a request for a House Ethics Committee investigation into allegations against me raised by a former partner. I am taking this step now because I am innocent and eager to see this entire matter resolved.
[image via Chip Somodevilla/Getty Images]
Follow Colin Kalmbacher on Twitter: @colinkalmbacher
Have a tip we should know? [email protected]