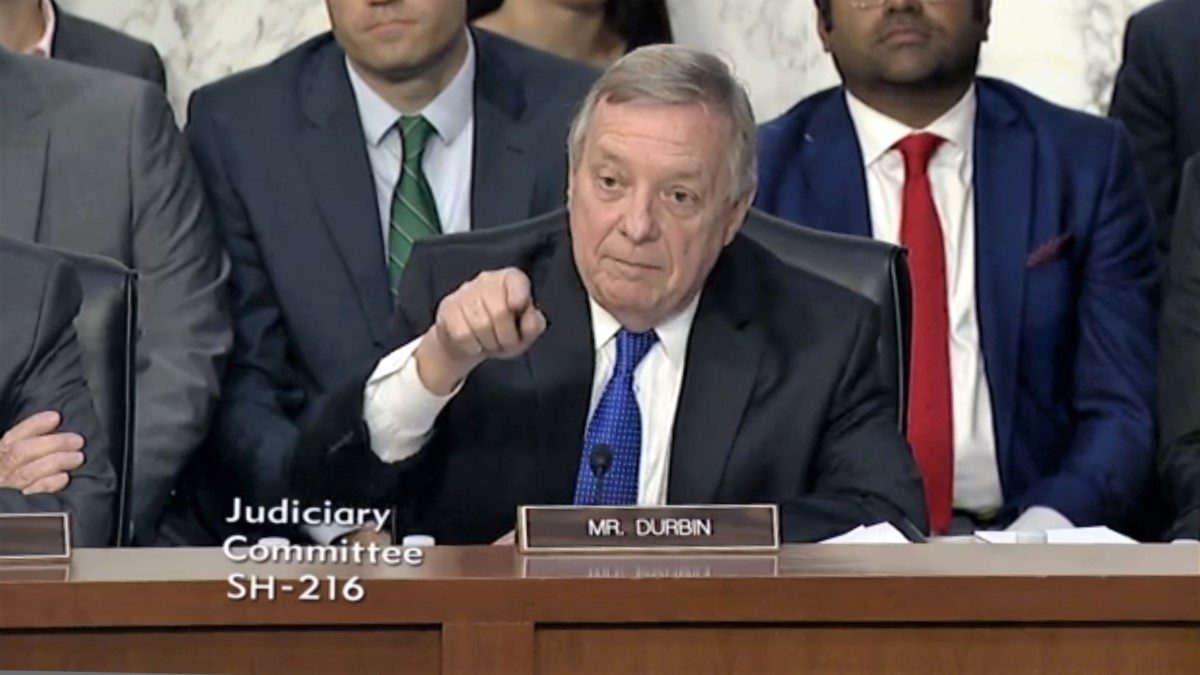 Sen. Dick Durbin (D-Ill.) unloaded on President Donald Trump during Tuesday confirmation hearings for Judge Brett Kavanaugh, Trump's pick for the Supreme Court of the United States.
He also more or less called Kavanaugh a liar. That led to a harsh rebuke from a Republican senator on the other side of the Senate Judiciary Committee.
Pointing his finger at a stoic Kavanaugh, Durbin said, "You are the nominee of President Donald John Trump. This is a president who has shown us consistently that he's contemptuous of the rule of law. He has said and done things as president which we have never seen before in our history."
From there, Durbin said Trump fired the director of the FBI, James Comey, when Comey "wouldn't bend to [Trump's] will," and that Trump "harasses and threatens his own attorney general," Jeff Sessions. "There should be some respect at least for the office that he serves in," Durbin said with reference to Sessions.
From there, Durbin made the connection from president to nominee:  "It's that president who decided you are his man. You're the person he wants on the Supreme Court.  Your are his personal choice. Are people nervous about this? Are they concerned about it? Of course they are!" Durbin emphasized.
"President Trump, whose lawyers say they will fight any effort to subpoena or indict him all the way to the Supreme Court, that president seems personally eager to have you confirmed as quickly as possible," Durbin later said.
"President Trump made it that clear he would appoint justices — only appoint justices — to the Supreme Court who would overturn Roe v. Wade and the Affordable Care Act.  Those were his litmus tests," Durbin went on to say. Citing Kavanaugh's former clerks, Durbin said Kavanaugh considered the Affordable Care Act (Obamacare) to be "unprecedented and unlawful," and that Kavanaugh has a "strong" and "consistent" record of enforcing restrictions against abortion.
Durbin also told Kavanaugh that he was, before becoming a judge, "faithfully advancing the Republican party agenda . . . you're like the Forrest Gump of Republican politics . . . you always show up in the picture." Durbin said he was referencing the Ken Starr investigation of Bill Clinton, Bush v. Gore, and Kavanaugh's work in the Bush White House.
Kavanaugh's views on several hot-button issues have been well-documented, and Durbin seized on a perceived lack of candor on those views.
"Unfortunately, I don't think you're gonna tell us much this week," he said. "It's interesting to me that people in your position write all these law review articles, make all these speeches, and come to this room and clam up — don't want to talk about issues — but that's what I expect."
From there, Durbin, a Democrat, quoted Ronald Reagan — "trust, but verify" — in questioning Kavanaugh's candor. Durbin drew attention to Kavanaugh's previous confirmation hearings in 2006, when Kavanaugh was appointed to the Washington, D.C. Circuit Court of Appeals.
"I wanted to trust you the last time you testified before this committee in 2006," Durbin said, then quoted Kavanaugh as saying, "'I was not involved and am not involved in the questions about the rules governing detention of combatants.'"
Durbin exposed what he believes to be a contradiction:
But later, just a week or so ago, you acknowledged in my office that you were involved.  For twelve years, you could have apologized and corrected this record, but you never did. Instead, you and your supporters have argued we should ignore the simple declarative sentence which you spoke and somehow conclude your words mean something far different. You are a committed textualist, Judge Kavanaugh. If you're going to hold others accountable for their words, you should be held accountable for your own words. So, after my personal experience, I start these hearings with a question about your credibility as a witness. I know from my history with you that things you've said need to be carefully verified.
From there, Durbin went on to bemoan the 35-month "black hole" in Kavanaugh's White House records. During that time, President Bush was considering same-sex marriage, abortion, executive power, detainers, tortures, and warrantless wiretapping, just to name a few issues, Durbin said.
Later, Sen. Mike Lee (R-Utah), said it was ludicrous to suggest Kavanaugh lied to the committee about his work on the detention of combatants. Lee said the remainder of the hearing would clear up the record on that matter.
[Image via screen capture from the Senate Judiciary Committee video feed.]
Have a tip we should know? [email protected]
Aaron Keller - Deputy Editor-in-Chief