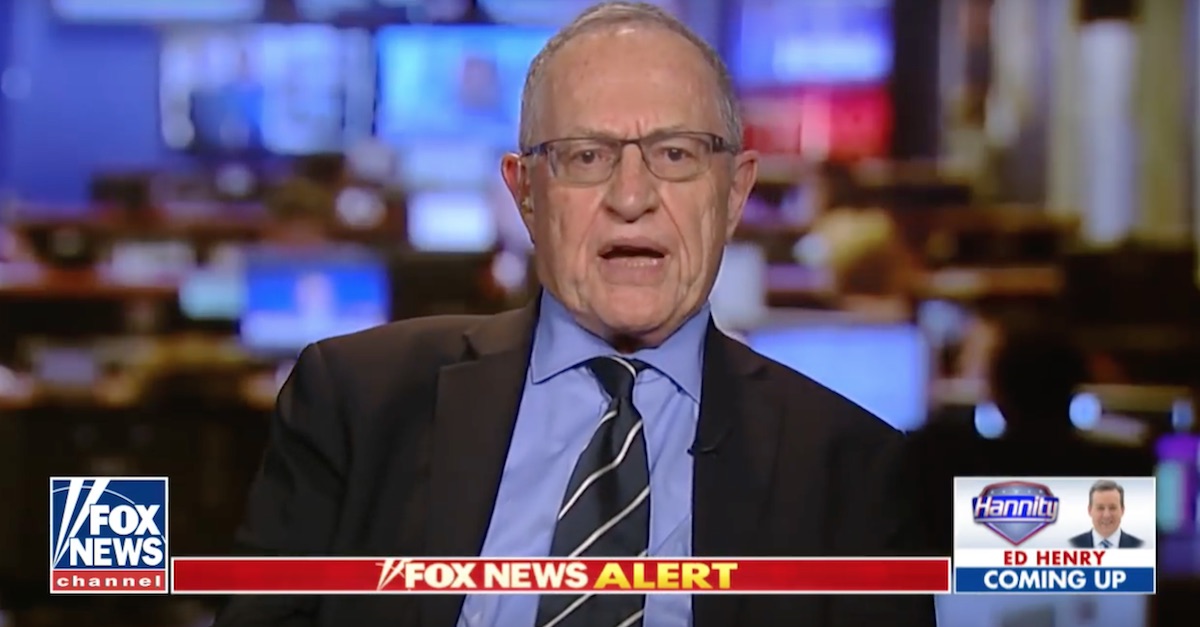 Alan Dershowitz thinks the Supreme Court could invalidate Congress' vote to impeach President Donald Trump if such a vote were to occur. A constitutional law expert and professor at the University of Texas begs to differ.
According to University of Texas law Prof. Steve Vladeck, judicial review is extremely unlikely to be triggered at all. And in fact, it's almost certainly foreclosed as a basic, threshold issue. This is because of the Supreme Court's own (fairly recent) jurisprudence on this exact question. Professor Vladeck noted:
But see Nixon v. United States (1993), in which #SCOTUS squarely held that a lawsuit attacking the validity of the impeachment and removal of a federal official couldn't be reviewed by the courts (because it presents a non-justiciable political question):https://t.co/GPnRnp7QFa https://t.co/3CoyoDoU3j

— Steve Vladeck (@steve_vladeck) July 10, 2018
In Nixon v. United States, the Rehnquist Court was asked to decide the fate of a judge, Walter Nixon, who was convicted and imprisoned for making false statements before a grand jury during his time as a federal judge in Mississippi. The U.S. House of Representatives impeached Nixon for high crimes and misdemeanors and he was subsequently convicted by the Senate.
Nixon contended that the Senate unconstitutionally delegated his trial to a committee of Senators rather than the full Senate–an alleged violation of the language contained in the Impeachment Trial Clause. Ultimately, the Supreme Court ruled this was a political question and therefore the issue was outside the scope of any court. Nixon's conviction was upheld.
Of course, the composition of the Supreme Court has shifted drastically since 1993; other legal observers on Twitter pointed out that the Roberts Court is likely to feel less bound by the political question doctrine than previous SCOTUS iterations.
Vladeck addressed this point in a later tweet. He wrote, "The whole point of Chief Justice Rehnquist's majority opinion in Nixon was to insulate the Court against the constitutional crisis of a President contesting his removal in court. I just don't see any appetite among the current Justices for revisiting that."
Dershowitz made the rounds Tuesday and repeated his controversial claim, which appears to be the thesis of a book he's promoting. In a possible bid to gin up sales, Dershowitz went so far as to tell newly-announced Supreme Court nominee Brett Kavanaugh that his view of the Constitution is "dead wrong." Dershowitz said [emphasis added]:
He should read the Constitution, and I think when he does read the Constitution, and when he reads my book and I will send him a copy of it he will see I'm right and he's wrong.
Seemingly at issue is Kavanaugh's belief that the Constitution grants Congress the broad authority remove a president. Dershowitz is arguing that any such authority is very limited and that judicial review of any potential removal might be triggered because "this president (and perhaps others) might well refuse to leave office if Congress voted to impeach and remove him based on 'offenses' that were not among those enumerated in the Constitution."
[Image via screengrab/Fox News]
Follow Colin Kalmbacher on Twitter: @colinkalmbacher
Have a tip we should know? [email protected]