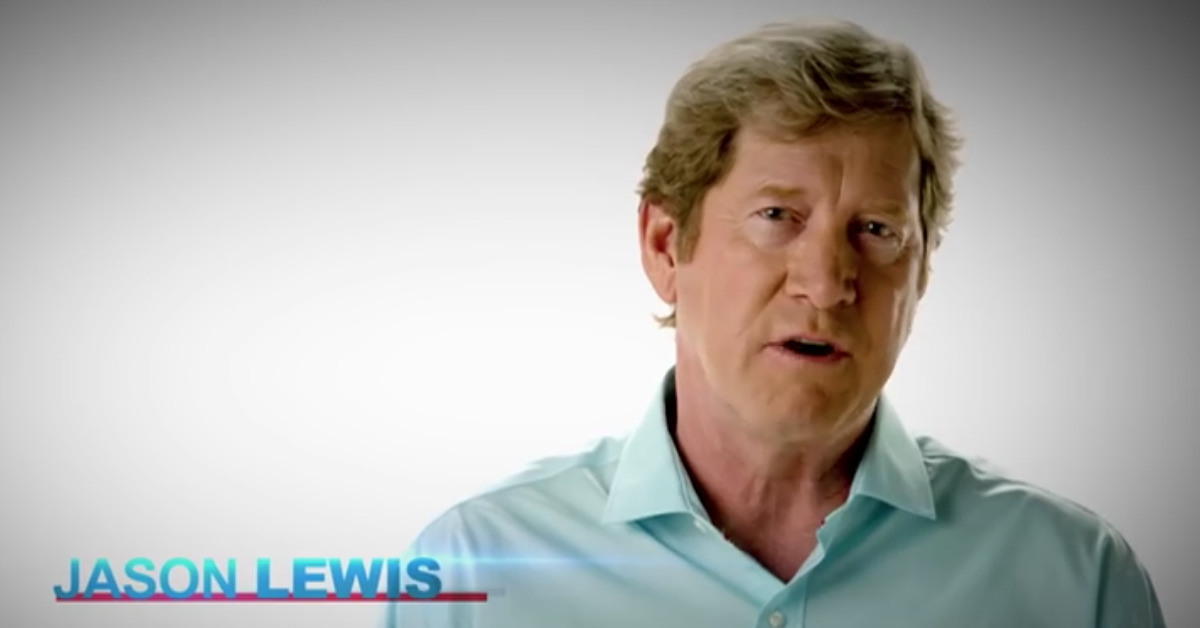 Rep. Jason Lewis (R-MN) is being criticized for his comments lamenting that another state's so-called religious freedom law "doesn't go far enough in allowing discrimination."
The law at issue was Indiana's Religious Freedom & Restoration Act (RFRA), which was signed into law in March of 2015 by then-Governor Mike Pence. The law was heavily criticized at the time of passage because it was widely viewed as an anti-LGBTQ bill which could be used by reactionary businesses to discriminate against gay, lesbian, bisexual, transgender and queer individuals and families.
Lewis, then a conservative talk radio host, apparently didn't take too kindly to Indiana's backtracking in the service of equal rights. In a column on his website, he wrote:
There's only one thing wrong with Indiana's (or anyone else's) Religious Freedom & Restoration Act (RFRA): it doesn't go far in enough in allowing discrimination. That is, why should you have to invoke a religious exemption in order to freely determine with whom you want to associate? I might not want to hire you because your 'lifestyle' (gay or straight) violates the tenants of my company's religious beliefs (the Supreme Court upheld Hobby Lobby's decision not to offer contraceptives for the same reason), but I also might not want to employ you because your ears are large. The former is protected by RFRA, the latter is not. Why?
Law&Crime reached out to Representative Lewis' spokesperson Becky Alery for comment and clarification, but no response was forthcoming at the time of publication.
Reaction to RFRA was swift. Business leaders and pop stars railed against the law. Million-dollar business losses ensued–and therefore tax-base losses followed–further roiling the state's business and government communities. Even more boycotts were threatened over the passage of RFRA by CEOs of Apple, Twitter and Eli Lilly.
Indiana's evangelical governor initially appeared willing to weather the storm. During an interview with George Stephanopoulos in the immediate aftermath of the law's passage and concomitant criticism, Pence said, "I stand by this law." The Indy Star noted one particularly revealing–and damaging–exchange which occurred during that same interview:
Pence was roundly criticized, however, when Stephanopoulos asked him six times whether the new law would allow a business to discriminate against gay couples — and Pence ducked the question six times.
Pence quickly buckled and just one month later, in April, he called for state legislators to pass a RFRA "fix" which protected LGBTQ Hoosiers from discrimination by business owners that might have otherwise resulted from the law.
[image via screengrab/YouTube/Jason Lewis for Congress]
Follow Colin Kalmbacher on Twitter: @colinkalmbacher
Have a tip we should know? [email protected]