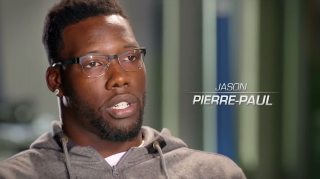 Sports journalists strive to share news with sports fans about their favorite players and teams in a clear and precise fashion.  After all, sports fans have a vested interest in the teams and players that they follow, so it's only right that journalists live up to the standard of providing fans with as much information as possible.  One such journalist is ESPN NFL insider Adam Schefter. Joining ESPN in 2009, Schefter has done everything from being the first to tip the public off on the biggest trade or signing by a team to gathering some high-profile interviews.  He is single-handedly one of the most well-connected NFL reporters in the sport.
Last July 4th, Schefter, as did every other news outlet, broke the news that Jason Pierre-Paul endured injuries from a fireworks accident in Florida that left him no choice but to amputate multiple fingers. He was treated in Jackson Memorial Hospital. But what set Schefter apart from all the others was when he tweeted a photo of Jason Pierre-Paul's medical records for his 4.5 million followers to see.  The tweet, as of this post, has been retweeted nearly 7,700 times.
This tweet, which sparked much outrage about medical privacy and ethics, ultimately culminated in Pierre-Paul filing a lawsuit against Adam Schefter and ESPN on Wednesday.  In the complaint, Pierre-Paul alleges that Adam Schefter violated Florida Statute § 456.057, which states in a nutshell that medical records maintained by hospital, clinical laboratories, and other health care practitioners shall be kept confidential.  Specifically under subsection 7(a) of the Florida Statute, records shall only be provided to the patient, his/her legal representatives, and other health care providers.  Medical records under this statute shall not be disclosed to anyone else without the patient's written consent.  The complaint specifically asserts that Schefter is in violation of § 456.057(11) which states that a third party in receipt of medical records is "prohibited from further disclosing any information in the medical record" without the patient's express written consent. Likewise, the complaint holds Jackson Memorial Hospital accountable for disclosing the records in the first place without his consent.
Jason Pierre-Paul also accuses Schefter of invading his privacy.  Invasion of privacy is a common law tort offense that comes in various forms.  Here, it comes in the form of public disclosure.  Pierre-Paul alleges that this medical information about his amputated fingers was private and that publishing them on a very large scale was offensive to him.  To prove any public disclosure-invasion of privacy claim, the plaintiff has the burden of proving that 1) private information pertaining to him was disseminated to a large audience and 2) the information that was shared is not of public concern.
The lawsuit also holds ESPN responsible for Schefter's actions under the respondeat superior doctrine, which is a very fancy legal term which states that employers are held accountable for the actions of their employees that are performed in the course of their employment.
I think this lawsuit will not result in a win or even a settlement for Jason Pierre-Paul.  Let's start with his allegation against Schefter that he violated Florida Statute § 456.057.  On its face, the law seems to hold hospitals and medical care providers to a higher standard than a third party like Schefter here.  In fact, it's quite shocking that Pierre-Paul's attorney did not include Jackson Memorial Hospital as a co-defendant in this claim.  If Pierre-Paul thought that his records were unlawfully administered under Florida Statue § 456.057, then the hospital should have been named in the suit and he should be collecting damages from it.
Additionally, Pierre-Paul's invasion of privacy claim may be a stretch to prove as well.  Certainly the argument can be made that Adam Schefter tweeting the medical record was disseminated to a public audience. After all, he has a huge Twitter following, the tweet received thousands of retweets, and Schefter's tweet was discussed on ESPN and by other sports journalists nationwide.  However, it's a stretch to say that information of Pierre-Paul's amputation was not of public concern.  Jason Pierre-Paul is a star on the New York Giants. He won a Super Bowl with the Giants in 2012.  He's already gone to the Pro Bowl twice in his 6 year career.  His jersey is even for sale on the New York Giants website.  There's no mistake that fans care about Jason Pierre-Paul, so to allege that news of amputation was not of public concern doesn't hold water in my book.
No matter how you slice or dice this case, there is one defense that unequivocally protects Adam Schefter: under the First Amendment's right to freedom of press, he had a right to share the medical records.  Jason Pierre-Paul's fireworks injury was certainly newsworthy because not only was he a staple in the New York Giants defense, but there was a very real possibility that his time in the NFL came to an end.  Thankfully, he still will be in a Giants uniform playing.
Needless to say, Schefter was simply doing what any great journalist does best, which is to share the news.  Whether it was right for him to tweet the medical records is more a matter of journalistic ethics.  ProFootballTalk opined on this matter, questioning whether Adam Schefter really needed to share Jason Pierre-Paul's medical records to the whole world. But as a matter of law, Schefter and ESPN seem to be in the clear and I would expect this case to be dismissed.
Tony Iliakostas is a sports law contributor for LawNewz.  He is the founder and host of his own sports law video blog called "Law and Batting Order."  You can follow Law and Batting Order on Facebook and Twitter, and you can follow Tony on Twitter.
[ Screengrab via FOX Sports]
Have a tip we should know? [email protected]