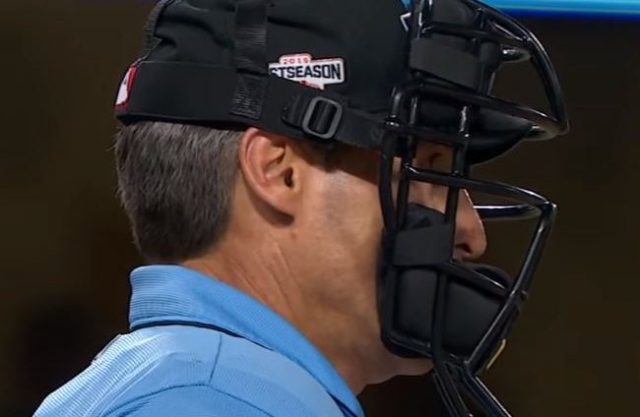 Major League Baseball umpire Angel Hernandez filed a lawsuit on Monday against the league and the Office of the Commissioner of Baseball, claiming that he has been denied promotions improperly, in part due to racial discrimination.
Hernandez, who is Cuban, claims in his suit that minority umpires in general have not risen in the ranks nearly as much as their white counterparts, noting that 23 umpires were promoted to Crew Chief since 2000, and none of them were minorities. The lawsuit claims that those white umpires were "less qualified," and were promoted based on their ethnicity.
A 24-year veteran, Hernandez claims that his performance evaluations were consistently above average, yet he has yet to be promoted to the position of crew chief, although he has served in that role on an interim basis, and has expressed a desire to advance in his career.
In the last six seasons, the complaint says, only one minority umpire was assigned to the World Series (each World Series has six umpires assigned to it). Such an assignment would provide greater notoriety and a bonus.
In addition to the racial discrimination allegation, Hernandez claims that his lack of career advancement is personal, putting blame on a feud between himself and former New York Yankees manager Joe Torre, who has been working for the Office of the Commissioner since 2011, first as Executive Vice President for Baseball Operations and currently Chief Baseball Officer.
The lawsuit says that the relationship between the two turned sour after a game Hernandez officiated in 2001 when Torre was still managing the Yankees. After the game, in which Hernandez made a call that Torre didn't like, Torre told reporters that Hernandez "seems to see something nobody else does," and that "I think he just wanted to be noticed over there," indicating that he thought Hernandez was seeking to draw attention to himself.
Hernandez believes that once Torre took his position in the Commissioner's Office, that attitude towards him  from Torre remained, resulting in lower evaluations, including comments about how Hernandez wanted the spotlight. The complaint says that Hernandez didn't face this sort of criticism before Torre joined the office.
Hernandez most recently applied for a crew chief position for the current 2017 season, but was turned down in March. The complaint mentions that Torre explained the reasoning for denying Hernandez a promotion was because "Hernandez needed to 'gain greater mastery of the Official Playing Rules and Replay regulations, continue to improve [his] situation management, and display an ability to refocus and move forward after missing calls or receiving constructive feedback from the Office.'"
Hernandez does not believe this criticism to be accurate, as it wasn't an issue in the years before Torre was in power, the complaint says.
In his lawsuit, Hernandez is claiming that MLB and the Office of the Commissioner have violated federal and state discrimination laws by not promoting him. The complaint says, "Every day that Hernandez is not a crew chief, he is being discriminated against in many cities around the United States[.]"
Because the higher position, as well as high-profile post-season assignments, come with bonuses, Hernandez is seeking back pay for the time that he has not held those positions.
Neither Major League Baseball nor Joe Torre could be reached by LawNewz.com, although an MLB spokesperson did tell the Associated Press that the league declined to comment.
Angel Hernandez v MLB by LawNewz on Scribd
[Image via screengrab]
Have a tip we should know? [email protected]