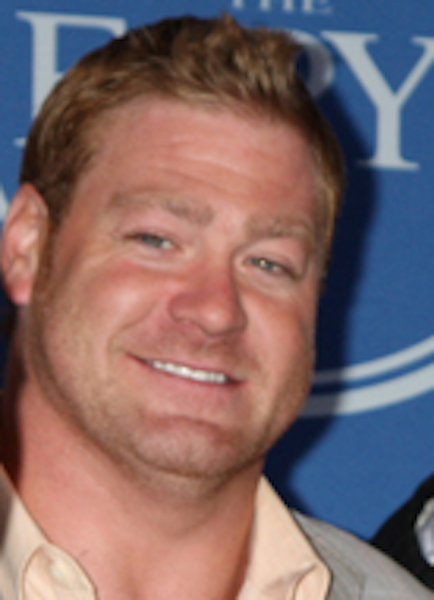 Former NFL tight end Jeremy Shockey was reportedly visited by FBI agents last week who are investigating his alleged association with the ringleader of an international drug and gambling ring.
Former USC player Owen Hanson was charged on January 28 with running an international drug and gambling ring called ODOG Enterprises, along with 21 others.  According to a report in the New York Post, agents uncovered Hanson's contact list during the investigation, which is said to include names of dozens of current and former pro athletes, including that of the two time Super Bowl champion tight end, Shockey.
In a remarkably candid interview with The Post, Shockey acknowledged having a friendship with Hanson and traveling with him to Costa Rica in 2010, but denied any knowledge of or involvement in the alleged drug and gambling operation.
"I thought he was in the real-estate business like me," Shockey told The Post. "I'm a straight businessman. I don't hang out with drug dealers or prostitutes. I'm here with my girlfriend making out, and I get a knock on my door from these agents. I said to them, 'Come on in. I got nothing to hide.'"
Shockey invited the agents inside his home and told them he met Hanson in Las Vegas at a wild pool party where Shockey told them he passed out from dehydration.  After that, Shockey said the two became friendly and he admitted to inviting Hanson to his home in Miami often and said they would sometimes go together to the gym, surfing or partying.  Shockey also acknowledged knowing another co-conspirator in the case named Giovanni "Tank" Brandolino, who is alleged in the indictment to have sent cocaine and ecstasy to "a pro-football player located in Nashville, TN" on the same day of a Tennessee Titans-Pittsburgh Steelers Monday Night Football game in November 2014.
But Shockey reiterated that he had nothing to do with drugs or gambling, telling The Post, "I'm a drunk — I'm Irish. I've never had anything to do with drugs.  And I would never do anything illegal to jeopardize what I've worked for."  Shockey added, "This guy (Hanson) had money. He had cash on him all the time. But I thought it was from his business. No one knew any of this s–t was going on."
Shockey retired at the end of the 2011 season, after 10 years of playing in the NFL.  Shockey won two Super Bowls in career, one as a member of the NY Giants in Super Bowl XLII and Super Bowl XLIV with the New Orleans Saints where he caught the go-ahead touchdown pass from QB Drew Brees.
[h/t The New York Post; image via shutterstock]
Have a tip we should know? [email protected]