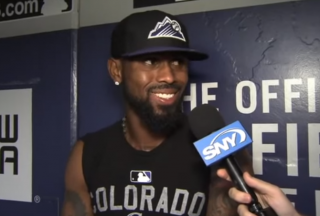 Maui prosecutors plan to dismiss their case against Colorado Rockies shortstop Jose Reyes on Wednesday, ESPN reports. Reyes was arrested on October 31 for allegedly assaulting his wife at the Wailea Four Seasons Resort. He was released on $1,000 bail and ordered to stay away from his wife for three days.
Deputy Prosecuting Attorney Kerry Glen said that Reyes's wife is "an uncooperative witness," and refuses to return to Maui for the trial. She had injuries to her leg and scratches on her neck, according to a hotel security guard's 911 call, but will not talk to prosecutors. "At this point, I have no other avenue for prosecution," Glen said.
Major League Baseball had suspended Reyes with pay, pending the outcome of the case or a league investigation of the four-time All-Star. He was not allowed to join the Rockies for Spring Training, and his trial had been scheduled for the same day as Colorado's season opener, April 4. Since the criminal case went nowhere, it remains to be seen what steps the league will take to determine any further discipline against Reyes.
[h/t ESPN, image via screengrab]
Have a tip we should know? [email protected]