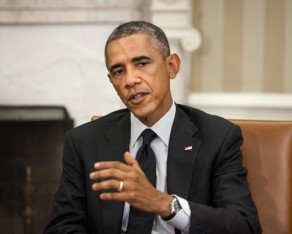 President Obama on Wednesday commuted the sentences of 61 federal prisoners convicted of drug related crimes, more than one-third of whom were serving life sentences.  Obama has now commuted the sentences of 248 prisoners — more than the last six presidents, combined.
Wednesday's commutations are part of an Obama administration initiative to give relief to prisoners that Obama feels were unfairly punished by mandatory minimum sentencing requirements as part of the war on drugs.
"Most of them are low-level drug offenders whose sentences would have been shorter if they were convicted under today's laws," Obama said in a post on his Facebook page. "I believe America is a nation of second chances, and with hard work, responsibility, and better choices, people can change their lives and contribute to our society."
In his second term, Obama has made it point to advocate for sentencing reforms for nonviolent drug offenders and he has reviewed thousands of petitions from prisoners who meet a set of guidelines set by the Justice Department that make them eligible clemency consideration.  According to a recent report, 9,115 clemency petitions are still pending.
White House Counsel Neil Eggleston also released a statement on the commutations:
Today, the President announced 61 new grants of commutation to individuals serving years in prison under outdated and unduly harsh sentencing laws. More than one-third of them were serving life sentences. To date, the President has now commuted the sentences of 248 individuals – more than the previous six Presidents combined. And, in total, he has commuted 92 life sentences.
HERE is the complete list of Wednesday's commutations via WhiteHouse.gov.
[h/t Washington Post; image via shutterstock]
Have a tip we should know? [email protected]