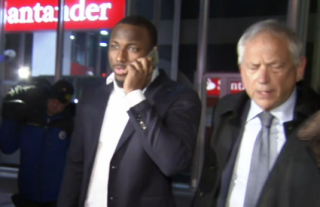 The Philadelphia District Attorney's Office decided not to pursue charges against Buffalo Bills running back LeSean McCoy, after an investigation stemming from a February 7 alleged incident at a nightclub, ESPN reports. The DA's Office is expected to announce this decision at a press conference on Monday afternoon, according to McCoy's attorney, Dennis Cogan.
McCoy, who once played for the Philadelphia Eagles, had been a suspect in a bar fight, captured in the video below provided by TMZ. Two off-duty police officers were reportedly injured in the melee, but police did not question McCoy or three other suspects.

The officers' police report claimed that McCoy started the fight, which was over a bottle of champagne, but a source connected to McCoy told ESPN that it was one of the cops who took the bottle that was meant for McCoy's table. McCoy spoke to Philadelphia prosecutors two weeks after the incident.
Despite not being charged with anything, the NFL will reportedly investigate the incident before determining whether discipline against McCoy is appropriate.
[h/t and screengrab via ESPN]
Have a tip we should know? [email protected]