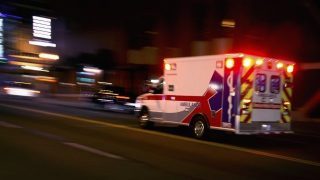 An unfortunate string of events led to a fatal, multi-vehicle accident on Interstate 35 north of Waco, Texas on Sunday March 11. Local police officers say that rainy conditions and previous accidents throughout the day likely contributed to the pile up involving six vehicles.
Brynleigh Higginbotham, age 4, was riding in the back seat of her family's small SUV when they were struck from behind by a large RV. Four other cars were unable to avoid the accident and at least ten people were treated for injuries at the scene. Unfortunately, Brynleigh died as the impact from the much larger vehicle crushed the rear portion of the car she was riding in.
Her sibling and parents were taken to the hospital and are in stable condition.
Car Accident Statistics in Texas
More than 35,000 people die in car crashes in the United States each year. More than 2 million are injured in these crashes. Texas averages over 3,000 road deaths per year making it the deadliest state for drivers and ranks just behind Florida, according to the Insurance Institute for Highway Safety's 2015 report, the most recent available.
Texas also ranks well above other states when it comes to driving incidents involving alcohol. According to the activist group MADD, Texas had 1,323 drunk driving fatalities which comprised 38 percent of all road fatalities in 2016. However, this was a decrease of 8 percent from the previous year. More than 60,000 people were arrested for intoxicated driving in that same year.
Distracted driving, usually involving a smart phone and texting also contributes greatly to the number of traffic related fatalities in Texas. Austin news station KXAN reports that one in five traffic accidents statewide are due to distracted driving and more than 4,000 accidents occurred in Austin for the same reason in 2015.
What Are the Solutions? 
After two years of voting it down the Texas State Legislature voted on March 16 to enforce texting and driving laws and fines statewide. This measure has been voted down four times previously and many lawmakers in texas are hailing this a long overdue victory. In the past cities like San Antonio and Dallas has their own laws on the books but there was no law at the state level. Now, anyone pulled over for texting and driving can expect a fine ranging from $25 to $99, and those will increase for repeat offenders.
Texas lawmakers have implemented some measures to attempt a decrease in alcohol related arrests, crashes, and fatalities. In 2015 lawmakers ruled that an interlock system, a device that checks the driver's blood alcohol level before the car can be started, be mandatory or strongly encouraged as part of a first time DUI offender's sentence. This measure has the ability to save many lives.
The Takeaway
While officers investigating the crash that killed Brynleigh Higginbotham have not indicated that anything other than poor road conditions were to blame for the fatal accident on March 11 it's clear that Texas has other serious issues when it comes to keeping drivers and their passengers safe while on the road. With time Texas lawmakers might to add measures that will improve that.
In the meantime, drivers should always be alert and aware of their surroundings, always have a designated driver if you plan to drink alcohol, and always pull over to a safe spot to use your phone or use the hands free option. With as one of the states with the highest number of road fatalities in the country it's important to always drive defensively, always wear seatbelts and be sure that children are in height and age appropriate car seats. If you are in an accident try to stay calm, wait for emergency services to arrive, and contact a San Antonio car accident lawyer if necessary.
As Brynleigh's family mourns their loss this a good time to honor her memory by respecting all road laws so you and your family can be as safe as possible when driving.
Have a tip we should know? [email protected]