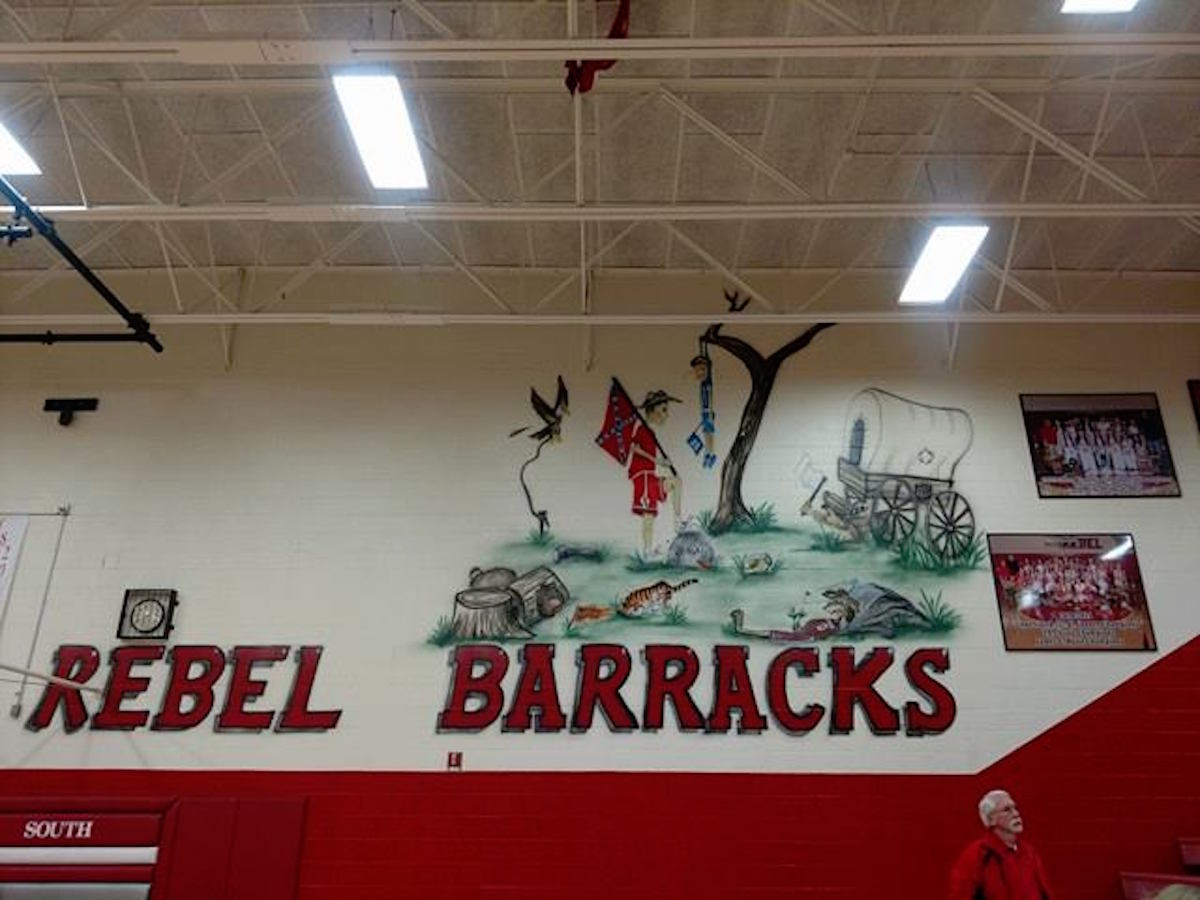 A Tennessee elementary school mural depicting the lynching of a man wearing a blue uniform has been changed.
South Cumberland Elementary School and Cumberland County together sent personnel to modify the mural after it was accurately described on social media last Friday.
The original mural showed a man wearing blue strung up from a tree while another man, dressed in red, looks on. The onlooking man is holding the Confederate battle flag, officially known as the "Stained Banner."
North Cumberland Elementary School officials initially defended the mural as showcasing a rivalry between schools. But some concerned citizens didn't much care for that excuse.
David Clark is a member of the group Shelbyville Loves, an anti-racist organization founded in response to rising currents of white nationalism and white supremacy in Shelbyville, Tennessee.
Clark said he reached out to the Shelbyville school board in early December about the mural and its racist content, but claims he was summarily ignored by school board members.
Then, Clark says, he went to the superintendent directly. Cumberland County Schools Director Janet Graham then apparently told Clark that the mural would be changed in February.
Clark noted, "But February came and went. And I decided to shine a light on it."
In a Facebook post on March 2, Clark wrote, in part:
These murals are in South Cumberland Elementary in Crossville. They are both in one public school elementary gym where all the children go to play every day. I have been in contact with school board and Janet Graham Superintendent since mid December about having them painted over. No action has been planned or taken as of today so I am asking people to call and let them know in a respectful manner, how you feel about these racist symbols being on full public display where children can see them.

Germany does not display Nazi symbols. This is not heritage, it is racism.
Clark's post also contained the names, phone numbers and email addresses of various Cumberland County School District officials responsible for enacting and overseeing non-discrimination policies.
After Clark's post went viral—that is, after the school board was caught red-handed and called out for their seemingly lackadaisical inaction—the mural was finally changed.
Principal Darrell Threet issued a statement in response. He wrote, "Concerns regarding graphics in our gymnasium have been dealt with by removing the rebel flags painted on the wall, and by modifying the mural on the wall as well."
In comments to Law&Crime, Clark said, "It seems to have happened quickly and I applaud them for that. I just know it had to come down. I hear the happy sounds of children playing and laughing every day. Not black white mixed or Hispanic children. Just children."
[image via David Clark with permission]
Follow Colin Kalmbacher on Twitter: @colinkalmbacher
Have a tip we should know? [email protected]