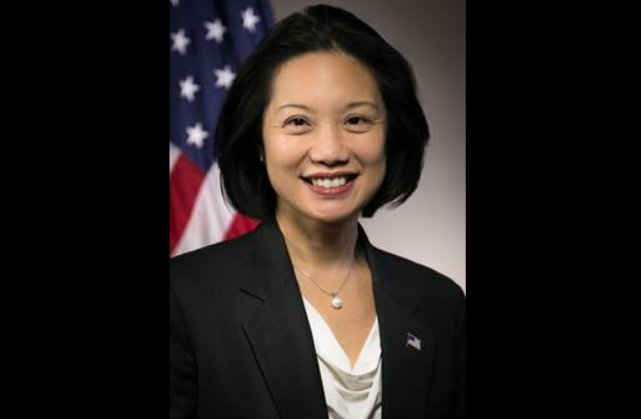 Will fired FBI Deputy Director Andrew McCabe face a criminal case? It's too early to say, and the parties involved aren't commenting, but if it happens, the woman in charge could be Jessie Liu..if she doesn't recuse herself. She's the U.S. Attorney for the District of Columbia, and a Trump nominee.
Reports on Thursday said her office got a referral from the Department of Justice's Inspector General, who is recommending criminal charges.
NBC News: A legal source familiar with the matter says the Justice Department has received a referral recommending a criminal charge against Andrew McCabe for lying to federal investigators. Now up to U.S. Attorney to decide of they charge him, Pete Williams reports.

— Tom Winter (@Tom_Winter) April 19, 2018
Surprise: None of the parties involved are publicly commenting on this. The Department of Justice, for example, refused to say anything when Law&Crime reached out for a statement. It's unclear what kind of charges McCabe would face in the first place, but based on the Inspector General's report about his alleged behavior, he lied about his role in authorizing the leak about a probe into the Clinton Foundation. As we spoke about before, this could violate 18 U.S. Code § 1001, which prohibits making false statements "in any matter within the jurisdiction of the executive, legislative, or judicial branch of the Government of the United States." A perjury charge is within the realm of possibility because three instances of alleged lying was made under oath, and Republican congress members also recommended an obstruction of justice case.
As things stand, it's up for Liu to decide whether to pursue charges on these accusations, others, or none at all. Of course, that assumes she doesn't recuse herself from the investigation. During the confirmation process, she disclosed to the Senate that she met with the president himself, writing that "(n)o one has asked me to commit that I will be loyal to the President or the Attorney General, and I have not made such a commitment."
That meeting could be a problem, nonetheless, because Trump has long railed against McCabe, who he said has committed crimes.
Comey drafted the Crooked Hillary exoneration long before he talked to her (lied in Congress to Senator G), then based his decisions on her poll numbers. Disgruntled, he, McCabe, and the others, committed many crimes!

— Donald J. Trump (@realDonaldTrump) April 16, 2018
It's worth mentioning that the interim U.S. Attorney of the Southern District of New York Geoffrey Berman, another Trump nominee, reportedly recused himself from the probe into Trump's personal attorney Michael Cohen. CNN's source on this matter claimed not to know the reasons behind this.
Liu may well take take the same approach, however, and pass the decision off to another official.
The U.S. Senate confirmed her last September 14 to take over the U.S. Attorney's Office in D.C, and she took office shortly after. Her biography on the Justice Department's website said she previously worked for the D.C. office as a Assistant Attorney from 2002 to 2006, working on violent crime, drug, firearms, and fraud cases. She's done quite a bit of work for the Department of Justice, taking roles in the Civil Rights Division, working on natural security issues with the Deputy Attorney General, and serving as Deputy Chief of Staff of the National Security Division. Before her confirmation to the U.S. Attorney's Office, she worked in the Department of Treasury as Deputy General Counsel. She was previously a partner at the private firms Morrison & Foerster LLP and Jennifer & Block LLP, and has experience defending corporations in court.
Ronn Blitzer contributed to this report.
[Image via Department of Justice]
Have a tip we should know? [email protected]