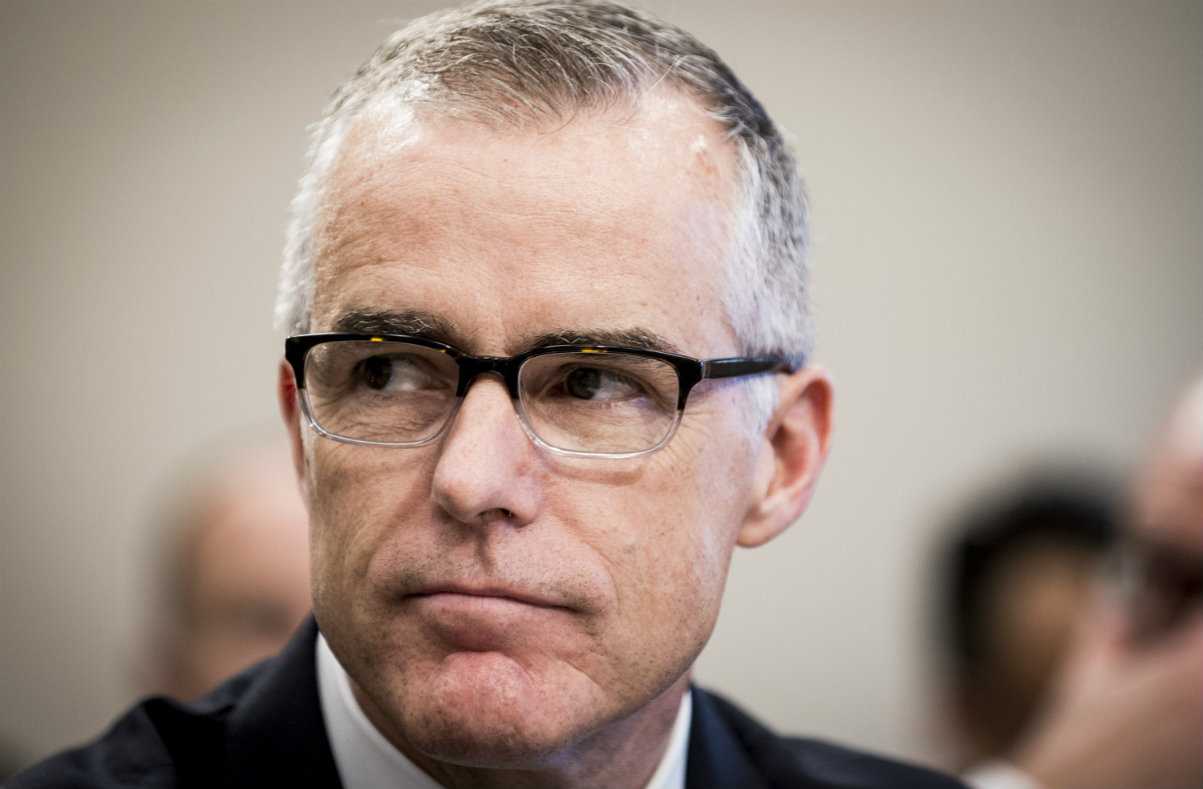 The Inspector General (IG) of the U.S. Department of Justice (DOJ) has sent a criminal referral to the U.S. Attorney's Office in Washington, D.C. regarding former FBI Deputy Director Andrew McCabe, according to multiple reports.
Details are still sketchy at this point, as the DOJ, McCabe's representation, and the U.S. Attorney's office all declined requests for comment from multiple outlets. The DOJ also declined to comment to Law&Crime.
Despite the lack of information at this time, one look at the recent IG report on McCabe gives some insight as to what kind of charges he could potentially face. McCabe was accused of having a "lack of candor" in several instances regarding his involvement in authorizing a leak of information about an investigation of the Clinton Foundation.
Lack of candor may seem harmless, but in reality it means:
Knowingly providing false information when making a verbal or written statement, not under oath, to a supervisor, another Bureau employee in an authoritative position, or another governmental agency, when the employee is questioned about his conduct or the conduct of another person.
In other words, lying.
In one instance, McCabe allegedly told then-FBI Director James Comey that he had not authorized the leak. The report says that McCabe insists that he told Comey that he had authorized it, but the report also says that this is not supported by evidence, including Comey's version of events.
While this alleged false statement was not made under oath, it could warrant a charge under 18 U.S.C. § 1001, which covers providing false statements "in any matter within the jurisdiction of the executive, legislative, or judicial branch of the Government of the United States." That charge carries a possible punishment of up to five years in prison.
The three other instances were under oath, according to the report, which means McCabe could potentially be charged with perjury. Perjury, under 18 U.S.C. § 1621, covers instances where a person has properly taken an oath to tell the truth, and "willfully and contrary to such oath states or subscribes any material matter which he does not believe to be true." Perjury also carries a possible five-year sentence.
A letter from Republican members of Congress recommended these charges for McCabe, and also suggested a charge for obstruction of justice under 18 U.S.C. § 1505, but that may prove more difficult, as it requires a "corrupt state of mind" while lying during a pending proceeding.
Of course, a referral from the Inspector General's office does not mean that federal prosecutors will file charges against McCabe. The U.S. Attorney's Office may decide to conduct their own investigation before reaching any decision.
[Image via Pete Marovich/Getty Images]
Have a tip we should know? [email protected]