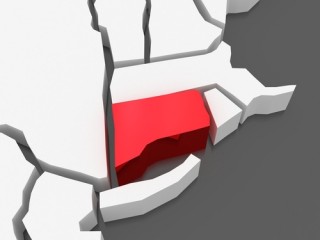 With the Republican National Convention approaching, the specter of a brokered convention looms like a mysterious cloud over the Presidential race. There's been a lot of talk over not just who will have the most delegates beforehand, but if and how each state's delegates could change sides. Here's a rundown of the rules for Connecticut, and how it impacts the overall situation.
How many delegates are there? 28
Who are they? Delegates are typically active party members or local leaders. Each state also has three delegates who are members of the Republican National Committee.
How are delegates picked? According to the Connecticut GOP rules:
15 delegates are awarded according to Congressional Districts, with the winner of each district getting all of that district's delegates
10 delegates are considered "at-large" and are awarded to the candidate with the majority of the votes
3 delegates are "automatic delegates" who are members of the Republican National Committee.
How many did each candidate win? Donald Trump won all 28 delegates.
At what point can delegates switch candidates? In Connecticut, delegates are bound to their candidates for the first ballot at the convention. If the nomination has not been decided after the first round of voting, all delegates are free to support any candidate they choose.
What effect could this have on the convention? If there is no clear-cut nominee going into the convention, every delegate counts. If the first round of voting doesn't result in a winner, Connecticut's 28 delegates could play a pivotal role, depending on what they choose to do.
[Image via Shutterstock]
Have a tip we should know? [email protected]
Rachel Stockman - President / On Air Host