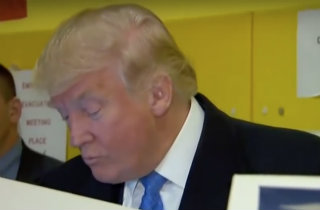 As noted earlier on Wednesday by our sister website, Mediaite, Donald Trump has been named Time Magazine's "Person of the Year" for 2016. In Time's profile of Trump that they published along with the announcement, there are a number of new quotes from the President Elect, gathered in an interview last Monday (November 28th) covering a number of issues that came up both during and after his campaign. The most pressing of these, in light of various recount lawsuits and the various deadlines in play, is regarding his latest allegation of massive voter fraud. Described by Time as "eager to talk about the controversy he stirred," Trump explained that "I've seen many, many complaints. Tremendous numbers of complaints." If there was any further explanation, it was not quoted or otherwise relayed by Time.
As noted previously here on LawNewz, Trump's claims most likely trace back to tweets from conservative activist Gregg Phillips, who claimed to have found 3 million "non-citizen votes" in his "database of 180 million voter registrations." Phillips refuses to share his data with journalists, much less explain exactly what he has, how he got it, or what his methodology is.
Another one of the rare Trump quotes in the article concerns immigrants more directly. At one point during the interview, Trump asked for a break and disappeared so he could find an article from Long Island newspaper Newsday that he had been reading about a purported rise in immigrant crime. "They come from Central America," he said. "They're tougher than any people you've ever met. They're killing and raping everybody out there. They're illegal. And they are finished."
When one of Time's reporters pointed out that he was saying similar things to Philippines President Rodrigo Duterte, who has initiated the extrajudicial killing of alleged drug dealers and users, Trump didn't waver. "Well, hey, look, this is bad stuff," he says. "They slice them up, they carve their initials in the girl's forehead, O.K. What are we supposed to do? Be nice about it?" A few days after the interview, Duterte claimed to the media that Trump had endorsed his "drug war" policies.
Also on the international scene, there was the issue of possible Russian interference of some kind in the election. "I don't believe it. I don't believe they interfered," Trump says. When asked in a follow-up if he thought that the United States' intelligence apparatus stating otherwise was politically driven, Trump answered by saying "I think so." Immediately after that quote, Time appears to have made a point of including the following line that echoes previous reports: "Since the election, Trump has chosen not to consistently make himself available for intelligence briefings, say aides."
The printed quotes also included Trump's thoughts on what was a very fresh topic: Campaign manager/strategist Kellyanne Conway ripping into Secretary of State hopeful Mitt Romney on the previous day's Sunday morning news shows. From how Time described Trump's mood when the topic came up ("Trump seemed to enjoy the spectacle,") he wasn't especially bothered by what was termed a "betrayal" in some circles according to the article. "I might not like it, but I thought it was fine," he said. "Otherwise I would have called her up."
[Photo: Fox 10 Phoenix YouTube screen grab]
Have a tip we should know? [email protected]