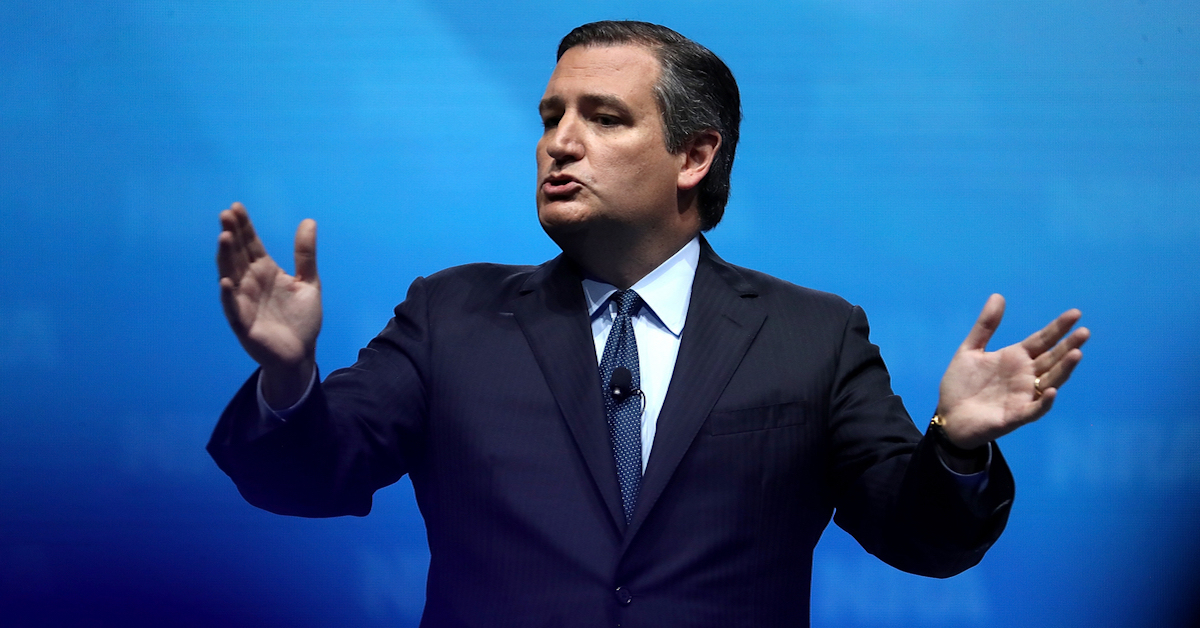 A deceptive mailer making its way into mailboxes across the State of Texas has raised plenty of eyebrows–and suspicions that Republican Senator Ted Cruz's campaign may have violated Texas law.
Sean Owen is a native Austinite and data scientist. In a tweet sent at 12:31 a.m. on Sunday, Owen highlighted a Cruz fundraising pitch addressed to his recently deceased grandmother–who passed away just a few months ago at the age of 88.
Receiving fundraising pitches during toss-up Senate campaigns is nothing new and there's typically nothing untoward about it. The mailer addressed to Owen's grandmother, however, came packaged in an envelope representing itself as an "Official Travis County Summons."
The official-looking manila envelope semi repeats itself, declaring in all caps, "SUMMONS ENCLOSED — OPEN IMMEDIATELY" and purports to have been sent from Travis County's "Voter Enrollment Campaign Division," an entity which doesn't actually exist–at least not as part of Travis County's municipal government.
Received this for my 88-year-old grandma. Says it's a summons from Travis County, but is actually asking for money for @tedcruz . Did your campaign authorize this? Is this even legal? Shame on you. That's one more @BetoORourke voter. pic.twitter.com/NcFoOCvjFj

— Sean Owen (@sean_r_owen) September 16, 2018
In comments to Law&Crime, Owen elaborated on his and his wife's initial confusion.
"What made me mad was that I knew my grandmother faced some cognitive decline at the end of her life, and had she received it, could well have been confused," he said. "Of course we were also shocked that it was clearly trying to be seen as an official legal summons from the county."
"I was surprised at the tactic initially, because even if it's legal to pretend to send mail from the county, I'd be surprised if it's worth angering some of the campaign's base over the tactic. It seemed like a new extreme in pushy, deceptive campaign ads," Owen continued. "Of course when it occurred to me that my grandmother could have been deceived, it made me mad and I contacted their campaign, then took to Twitter."
The fundraising letter inside the envelope is more or less standard fare but gone are any references to Travis County. Still, the document continues to play up the faux court paper motif.
The top header reads, "2018 Campaign Summons" and goes on to repeat that language a few times over. "YES, Senator Cruz! I am answering your summons," the letter begins. The letter's main text ends, "I am responding affirmatively to your call and summons by rushing back my enclosed donation…"
Some have asked what's inside. It's a quite normal campaign fundraising letter, and this form. Still a "Summons" and asking for a "affirmation" signature, but no mention anymore of Travis County (hmm) and more clearly about campaign donation. pic.twitter.com/tbMdkjGPzi

— Sean Owen (@sean_r_owen) September 16, 2018
In comments to Newsweek, the Cruz campaign took responsibility for the mailer–insisting that it par for the course and no big deal. The Cruz campaign mailer, however, may be illegal under Texas law.
Texas has long had a thorough set of consumer protection laws–embodied in the Texas Deceptive Trade Practices Act (DTPA).
Under the heading "DECEPTIVE TRADE PRACTICES UNLAWFUL," the law on point here is codified at §17.46(a)-(b)(29) and reads, in relevant part:
False, misleading, or deceptive acts or practices in the conduct of any trade or commerce are hereby declared unlawful and are subject to action by the consumer protection division…

[T]he term "false, misleading, or deceptive acts or practices" includes, but is not limited to, the following acts … delivering or distributing a solicitation in connection with a good or service that: (A) represents that the solicitation is sent on behalf of a government entity when it is not; or (B) resembles a governmental notice or form that represents or implies that a criminal penalty may be imposed if the recipient does not remit payment for the good or service…
The above language is a recent addition to the DTPA–being added in 2015. At least one of the authors of the bill which amended the statute is convinced the Cruz campaign has some explaining to do.
Democrat Gene Wu represents part of Houston in the Lone Star State legislature. In a tweet sent on Sunday evening, he linked to a Newsweek story regarding the pro-Cruz mailer. Wu noted:
Hello. This is violation of the Texas Deceptive Trade Practices Act (DTPA). I know, because I passed this law in 2015.
As for Owen himself? He's not currently considering legal action. In additional comments to Law&Crime, he said he is "contacting appropriate election and county officials today, but not considering further action now. I'd prefer this campaign, and others, simply stop this practice."
Law&Crime reached out to the Ted Cruz campaign as well as the Senator's Washington, D.C. and various Texas offices, but multiple voicemails and emails were not returned at the time of publication.
Editor's note: this article has been amended post-publication to include the Cruz campaign's admission that the deceptive mailer was an official and authorized campaign expenditure.
[image via Justin Sullivan/Getty Images]
Follow Colin Kalmbacher on Twitter: @colinkalmbacher
Have a tip we should know? [email protected]