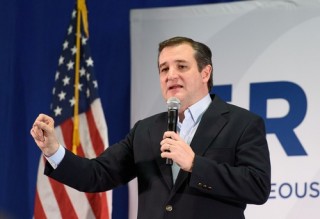 The man currently polling in second place for the Republican party nomination — Texas Senator Ted Cruz — is known to be a very astute and accomplished lawyer. Prior to his upstart Senate election in 2013, Cruz's career as a debate champ began at Princeton, and his litigation prowess served him foremost as the Texas Solicitor General before heading into private practice for several years.
We don't often talk about this period of Cruz's life; after all, while the confetti was still falling from the ceiling from the Tea Party darling's unexpected Senate win, he was more than likely plotting his takeover of 1600 Pennsylvania. For someone who had been described as abrasive, obnoxious, even "irksome" — not to mention his moniker as of late "Lyin' Ted" — it's unsurprising to find out that some of Cruz's litigation history would be controversial.
In 2008 then-Solicitor General Ted Cruz entered into private practice after arguing nine cases in front of the Supreme Court. Don't doubt for a second that Ted Cruz is as sharp as a whip; he won five of those cases. He's highly accomplished, unfairly bright (if not often annoying as all hell) by all estimates, and his grasp of Constitutional Law is astounding. Harvard law professor Alan Dershowitz has said that Cruz was "off the charts brilliant" during his time studying at the Ivy League school.
Being a fierce opponent, or even being disliked by some for it, isn't necessarily a political liability. Representing a big Chinese company against a little American entrepreneur is a very different story.
Morgan, Lewis & Bockius is the corporate law firm that Cruz worked for as an appellate lawyer out of their Houston location. On Cruz's LinkedIn page — yes, he has one — he identifies his work as partner at Morgan Lewis from May 2008-January 2013 with the following:
Ted leads the firm's U.S. Supreme Court and Appellate Litigation practice. He has authored more than 80 U.S. Supreme Court briefs and presented 40 oral arguments, including nine before the U.S. Supreme Court.
One of those legendary litigation suits involved Cruz working on behalf of a company called — and this is true — the Shandong Linglong Rubber Company from China. In the 2012 case — Tire Engineering and Distribution v. Shandong Linglong Rubber Company and Al Dobowi Ltd. — Cruz worked on behalf of Shandong.
The case featured an American small business owner named Jordan Fishman who designed specialized tires. On the other side of the table was Shandong Linglong, who was sued — and lost — when it was determined that the Chinese corporation stole Fishman's blueprints and had profited millions off of the original design. American David vs. Cruz and his Chinese Goliath. In the world of law, that may be a solid, well paying client. In the world of politics, for a guy campaigning on "the American dream seems to be slipping away," that is an attack ad waiting to happen.
The appeals court upheld the original jury's award of $26 million in favor of Fishman and so whatever Cruz and his firm were paid, it can't be worth the price of having to say: I represented Shandong Linglong over some rubber. And lost.
Have a tip we should know? [email protected]