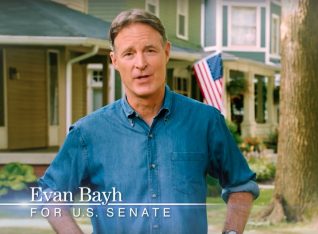 Legal experts are raising questions about Democratic Senate candidate Evan Bayh after CNN obtained a copy of his internal schedule from his previous time in the Senate, back in 2009.
According to CNN, the schedule shows Bayh regularly met with major donors from the health care industry in the run up to the passage of the Affordable Care Act.  Many of the meetings reportedly took place shortly after the donor hosted a fundraiser for Bayh or made a contribution to his campaign coffers.  Additionally, the schedule seemingly shows some of the meetings were held on Capitol grounds, despite Senate rules that prohibit fundraising from the Capitol complex.
Brendan Fischer, an attorney at the Campaign Legal Center, said, "At a minimum, the meetings raise questions about buying access, and they raise questions about selling influence."
Bayh decided not to run for re-election to the Senate when his term ended in 2010.  He spent six-years away from elected office before deciding to jump back in the race to retake his old Senate seat in 2016.  He is currently locked in a tight battle with Republican Todd Young.
Campaign spokesman Ben Ray denied any allegations of wrongdoing, but did not deny that the meetings took place.  Though, Ray did suggest the document obtained by CNN was selectively leaked by political opponents.
"Nearly 60 percent of all votes Evan took in 2009 are absent from this document," Ray said. "And it is clearly not a reliable source of information on how his time was spent."
Read the entire report at CNN.com.
[image via screengrab]
Have a tip we should know? [email protected]