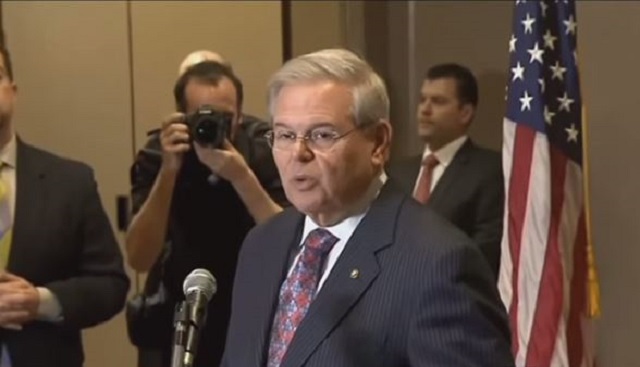 NEWARK, N.J. (AP) — The jury in the bribery trial of Democratic U.S. Sen. Bob Menendez and a wealthy donor and friend told the judge on Monday it couldn't reach a verdict on any of the 18 counts against them.
The jury's message came after an alternate replaced a juror who was excused last week for a pre-arranged vacation. The excused juror told reporters Thursday she would have voted for acquittal but expected the trial to end in a hung jury.
A mistrial would be a major defeat for the government, which spent more than two years investigating the New Jersey senator's ties with Florida eye doctor Salomon Melgen and about as long in the run-up to the trial, which is in its 11th week.
After the jury sent its note to U.S. District Judge William Walls on Monday, the judge told the panel to "go home, have a good meal and a good sleep and clear your heads." He told the jurors to return Tuesday.
Four jurors and three alternate jurors told the judge they had heard or read something about the excused juror's comments, and he questioned them individually in his chambers.
Jurors have been told repeatedly not to read reports about the case.
Defense attorneys argued on Monday that excused juror Evelyn Arroyo-Maultsby's comments that she was told she couldn't send the judge a note last week could represent a breach of protocol. The judge downplayed any notion that the jury had been compromised and accused defense attorney Abbe Lowell of making an issue of it because "she was on your side."
Prosecutors allege Menendez and Melgen engaged in a bribery scheme between 2006 and 2013 in which Menendez traded his political influence for luxury vacations and flights on the doctor's private plane.
The men each face about a dozen counts including bribery, fraud and conspiracy. Menendez also is charged with making false statements for failing to report Melgen's gifts on Senate disclosure forms.
Both men deny the allegations. Defense attorneys have sought to show jurors that the two men are longtime friends who exchanged gifts out of friendship. They also contend Menendez's meetings with government officials were focused on broad policy issues.
Arroyo-Maultsby's comments appeared to indicate at least some, and possibly a majority, of the jurors may believe the defense's theory.
If the newly constituted panel fails to reach a verdict over the next several days, the judge would have to weigh how long to let it continue before declaring a mistrial.
The government then would choose whether to retry the pair.
If Menendez is acquitted, it would reinforce the view that official bribery cases have become more difficult to prosecute, a trend traced to last year's U.S. Supreme Court ruling that overturned the bribery conviction of former Republican Virginia Gov. Bob McDonnell. That ruling played a significant role in how the jury was instructed in the Menendez trial.
[image via screengrab]
Have a tip we should know? [email protected]