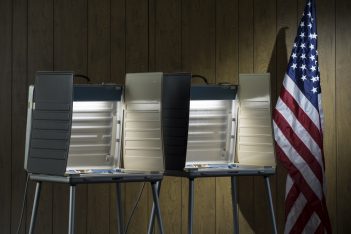 A lawsuit filed in Alabama on Monday asks a federal judge to rule that the state's law prohibiting certain categories of felons from voting is unconstitutional, racially discriminatory and violates the Voting Rights Act.
The Campaign Legal Center (CLC), the Voting Rights Institute, and the law firm of Jenner & Block filed the lawsuit on behalf of U.S. citizens with past felony convictions who have been denied the right to vote in Alabama.  At the heart of the lawsuit is the claim that a blanket felony disenfranchisement law covering individuals convicted of minor, non-violent offenses violates the 14th Amendment.  The Alabama law currently prohibits approximately 15% of black adults (about 130,000 people) from voting, according to the complaint.   Alabama is one of 12 states that imposes a lifetime voting ban on some of its convicted felons.
Alabama law provides:
No person convicted of a felony involving moral turpitude, or who is mentally incompetent, shall be qualified to vote until restoration of civil and political rights or removal of disability.
The restoration of civil and political rights for an individual convicted of "a felony involving moral turpitude" requires a discretionary pardon from the Board of Pardons and Paroles or a Certificate of Eligibility to Register to Vote (CERV).  In order to obtain a CERV, an individual must complete a number of requirements, including the payment of "all fines, court costs, fees, and victim restitution ordered by the sentencing court at the time of sentencing on disqualifying cases."
The complaint alleges the term "moral turpitude" is vague and undefined.  The complaint further alleges the requirement to pay "all legal financial obligations in order to be eligible to restore her voting rights constitutes a poll tax and violates the 24th Amendment."
In a press release announcing the lawsuit, the CLC asserts if the lawsuit is successful it could "sharply limit the scope of permissible felon disenfranchisement nationwide, arguing that the 14th Amendment does not allow the blanket disenfranchisement of citizens for minor non-violent offenses that are irrelevant to voting."
Danielle Lang, voting rights counsel for the Campaign Legal Center, issued a statement on Monday saying Alabama's law has the "undeniable effect of diminishing the political power of minority communities."  Lang added, "As our legal complaint shows, these laws are rooted in the racially discriminatory policies of the Jim Crow era, continue to primarily harm people of color and distort our democracy."
The lead plaintiff in the case is 60-year-old Larry Newby who was convicted of receiving stolen property in 2003.   Newby served a four-year sentence in prison and his parole ended in 2016.
"You do your time, you pay your debt to society, so you ought to be able to return back home and your society and be able to speak freely and vote freely," Newby said.
Have a tip we should know? [email protected]