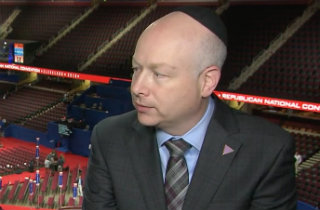 President Elect Donald Trump's transition team announced on Tuesday that Jason Greenblatt, the executive vice president and chief legal officer of the Trump Organization, will be the new administration's "special representative for international negotiations." According to the statement, which confirmed earlier reports of the appointment, Greenblatt will be "assisting on international negotiations of all types, and trade deals around the world."
The transition team released this biography of Greenblatt:
Mr. Greenblatt received his J. D. degree in 1992 from the New York University School of Law. Following law school, Jason worked for Fried, Frank, Harris, Shriver & Jacobson before joining the Trump Organization. Jason is a frequent lecturer and public speaker about a variety of topics.

Jason has been an Adjunct Professor of Management at Yeshiva University where he taught a course entitled Real Estate 101: The Anatomy of a Real Estate Deal. Jason also founded a website whose purpose is to promote bonding between parents and their teens and which is designed to teach teens the importance of giving back to society and other life lessons.
Before joining the Trump Organization in 1997, Greenblatt worked as a real estate lawyer and started a coffee vending machine company. He had been one of Trump's key advisers on Israel during his campaign, something that Trump gave a nod to in his statement. "Jason is one of my closest and most trusted advisers," he said. "He has a history of negotiating substantial, complex transactions on my behalf, as well as the expertise to bring parties together and build consensus on difficult and sensitive topics."
Greenblatt also chimed in as part of the statement."My philosophy, in both business and in life, is that bringing people together and working to unite, rather than to divide, is the strongest path to success," he added. "I truly believe that this approach is one that can yield results for the United States in matters all over the world."
In an April 2016 interview with the New Jersey Jewish Standard, Greenblatt revealed that when Trump announced that he was his key adviser on Israel, he had no idea that was the case until he heard Trump say it. "'I knew that he was relying on me for certain aspects of Israel, but I didn't know I was his top adviser," he said. "I felt fortunate he said it." Policy-wise, he explained that "The goal would be to get the Palestinians and the Israelis to the table — of course the Israelis have tried many times. But someone like Donald could get the Palestinians back to the table. And yes, I hope that I would be at the table too — but we're getting a little ahead of ourselves."
[Photo: YouTube screen grab]
Have a tip we should know? [email protected]