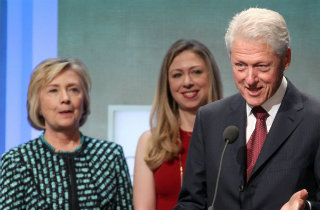 Guccifer 2.0, the hacker(s) behind the cyber attack on the Democratic National Committee earlier this year, is now claiming another victim on its/their official blog: The Bill, Hillary & Chelsea Clinton Foundation. In the post, Guccifer 2.0, brags that "[m]any of you have been waiting for this, some even asked me to do it," claims to have "hacked the Clinton Foundation server and downloaded hundreds of thousands of docs and donors' databases." Displaying screenshots of folders as proof, the post says that "Hillary Clinton and her staff don't even bother about the information security" adding that "[i]t was just a matter of time" before the server was breached.
For their part, the foundation issued a statement to Politico:
Once again, we still have no evidence Clinton Foundation systems were breached and have not been notified by law enforcement of an issue. None of these folders or files shown are from the Clinton Foundation.
That's not just the Clinton Foundation party line, though. According to the Politico piece, "[one]ne person familiar with the documents" told them that what has been released so far just looks like duplicates of what was leaked from the DNC hack.  If genuine, perhaps the most damning element of the leaked files so far is a folder named "Pay to Play." That said, it's not yet clear if there's anything to this.
[Photo: Shutterstock]
Have a tip we should know? [email protected]