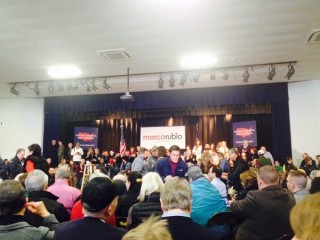 A New York University journalism professor took to Twitter after she claimed two of her black students were kicked out of a Marco Rubio town hall event this weekend.  Professor Yvonne Latty said it happened even though other white non-credentialed student journalists were allowed to stay. Latty and her graduate students were covering the presidential campaign for NYU's blog, The New Hampshire Chronicles.
"I hope moving forward they never do this again. It was awful," Latty told LawNewz.com in an email.
"I also felt racially profiled. They did not want to let me into the #Rubio event even when I was given a press pass," Latty tweeted.  Latty said her two students arrived with a group of 16 others when a Rubio staffer told them to put their cameras away because they weren't credentialed media. Latty says the white students, who also did not have a press pass, continued filming without being told to pack up.
Rubio's spokesperson told Wired that this was all a miscommunication over credentials. "We reserved the space for those who have RSVPed, and other than that, it's first-come, first-served," Michael Zona, Rubio's campaign staffer told reporter Issie Lapowsky.
Lapowsky wrote for the magazine:
I was at the Rubio event and recognized Latty from my time at NYU. I spoke with the girls, who were visibly shaken, after leaving the school gymnasium where the town hall was still going on. [Ugonma] Ubani0-Ebere's parents are from Nigeria and [Taisha] Henry's are from Haiti. "Both our parents are immigrants just like his," said Ubani-Ebere, referring to Rubio, the son of Cuban immigrants. "You just look, and it's like, this is what America's become. Racial tensions are at an all-time high.
Latty told LawNewz.com that she would not be filing any sort of official complaint.
"The damage is done, and all the media inquiries has made it clear that this is not acceptable," Latty said.
If the group did decide to push the issue, they may have a decent case because even though this is a private event, racial discrimination is prohibited by the Civil Rights Act of 1964. The law bars discrimination by privately owned places of "public accommodation" on the basis of race, color, religion or national original.
Here are some of Latty's tweets about the event:
1) there were only 3 blacks including me and #nyu_journalism students among hundreds of white people at #Rubio townhall. Hassles began fast.

— yvonnelatty (@yvonnelatty) February 7, 2016
Awful experience at townhall for #Rubio my two #black @nyu_journalism students were racially profiled #newhampshireprimary

— yvonnelatty (@yvonnelatty) February 7, 2016
4) black students realized what was going on and began to cry. I confronted head guy but damage was done. @nyu_journalism

— yvonnelatty (@yvonnelatty) February 7, 2016
Like #rubio I am a child of a Latino immigrant. But it was clear we were not welcomed at his townhall. @nyu_journalism

— yvonnelatty (@yvonnelatty) February 7, 2016
[photo credit with permission from NYU's The New Hampshire Chronicles]
Have a tip we should know? [email protected]
Rachel Stockman - President / On Air Host