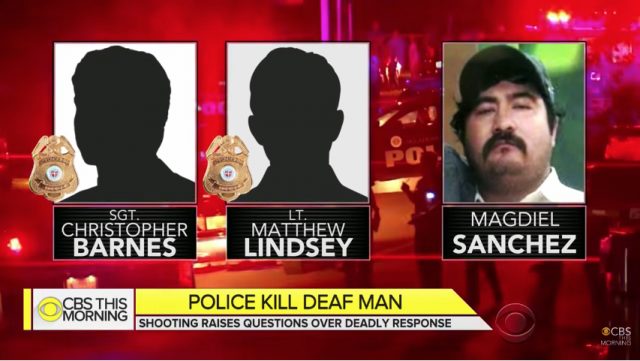 OKLAHOMA CITY (AP) — An Oklahoma prosecutor announced Friday that he won't charge a police officer who fatally shot a deaf man, determining the killing was legally justified after the man aggressively approached the officer while armed with a 2-foot metal pipe.
Oklahoma County District Attorney David Prater cleared Officer Chris Barnes in the Sept. 19 shooting of 35-year-old Magdiel Sanchez outside his south Oklahoma City home. A second officer who shot Sanchez with a Taser, Lt. Matt Lindsey, also acted justifiably because of the potential threat to the officers' lives, Prater said.
"At the moment Officer Barnes discharged his pistol he was acting in self-defense and, in my opinion, had no other reasonable option to prevent Mr. Sanchez from seriously injuring or killing him," Prater said. "Both officers employed techniques in an attempt to de-escalate and bring the situation to a peaceful ending. It is due to no fault of the officers that the matter ended violently."
Both Barnes and Lindsey tried to render aid to Sanchez immediately after the shooting, Prater said.
Police have said officers who responded to a hit-and-run crash encountered Sanchez holding a metal pipe. An autopsy report shows Sanchez was hit with a stun gun and shot five times in the chest, pelvis and upper arm.
Police have said previously that witnesses yelled "he can't hear you" before the officers fired, but that the officers didn't hear them. Prater suggested Friday that the fact Sanchez was deaf was not the reason he was killed, noting that both officers were in uniform, were driving in clearly marked patrol cars with emergency lights activated and were signaling to Sanchez to put down the weapon.
"You don't have to hear to know what these officers are telling you," Prater said.
The shooting prompted protests from activists from groups including Black Lives Matter Oklahoma and the Oklahoma Association of the Deaf.
Family members of Sanchez had called for Barnes' arrest and for state and federal investigations into the matter.
Sanchez's family has said he was completely deaf, developmentally disabled, and that he used the pipe as a walking stick. The autopsy found no drugs or alcohol in Sanchez's system.
Attorneys for Sanchez's family disputed Prater's suggestion that the officers tried to deescalate the situation.
"I think it's fair to say there was absolutely zero de-escalation deployed in this case," said Melvin Hall. "They continued to pursue him. They continue to follow him. They approached him on his own property. There was no effort to fall back to a safe position. There was no effort to establish a perimeter."
Prater earlier this week charged an Oklahoma City police officer with second-degree murder for fatally shooting a suicidal man in a separate case.
"We follow the evidence, and whatever conclusions we make … that's where we end up," Prater said. "A couple of days ago it meant we filed on a police officer for murder in the second degree and manslaughter. Today, the evidence led me to believe that these officers very appropriately acted in self-defense."
[image via screengrab]
Have a tip we should know? [email protected]