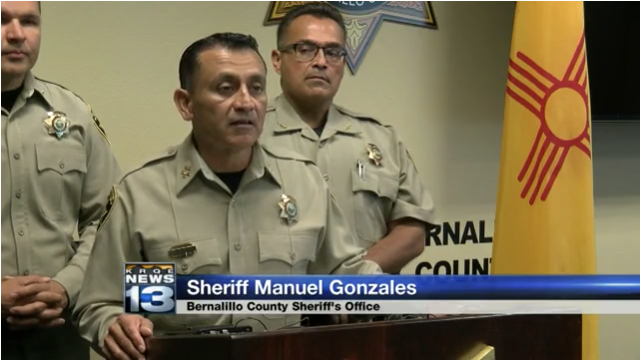 A sheriff in New Mexico is refusing to outfit his deputies with body cameras because he believes the recording devices are unfair and biased against police officers.
Bernalillo County Sheriff Manuel Gonzales is facing heavy criticism over his decision and rationale from various civil liberties groups, government transparency organizations, local activists and citizens alike.
Gonzales shrugged off those concerns, saying: "[Body camera footage] gives a lopsided, one-sided story, which I think is a disservice to the whole community."
The American Civil Liberties Union ("ACLU") recently castigated the Bernalillo County Sheriff's Office ("BCSO") over a lengthy string of officer-perpetrated shootings this year. The ACLU cited the allegedly excessive number of police shootings in such a small amount of time as justification for the department to embrace body camera technology.
BCSO deputies have been involved in nine shootings in the past four months. Gonzales blamed the number of shootings on a spike in crime, saying, "Obviously there is a crime epidemic in the Albuquerque metro area and Bernalillo county."
Gonzales also dismissed the efficacy of body camera technology. He said, "There's nothing that shows that piece of equipment works."
Foundation of Open Government ("FOG") President Greg Williams said, "I don't think anyone is trying to unfairly paint the police or to use this video against them. I just think everyone wants to know what happened." Williams continued:
It often justifies [an officer's] position because it shows that they were doing their job in a correct way. And in those situations where maybe they were not, or mistakes were made, or things that they could learn from, the video helps that process.
Others didn't share or extend FOG's conciliatory approach to police on the issue.
Activist Selinda Guerrero said, "The idea that BCSO investigates its own shootings we feel like it's already a biased investigation."
Darcy Scudero, the sister of a man who was recently killed after allegedly firing at BCSO deputies, said, "Why wouldn't you have them? What is the reason to not have them?"
According to KRQE, Gonzales is reportedly requesting an additional nine million dollars for his department's 2018 budget–none of which is presently ear-marked for the purchase of body cameras.
[image via screengrab courtesy KRQE]
Follow Colin Kalmbacher on Twitter: @colinkalmbacher
Have a tip we should know? [email protected]