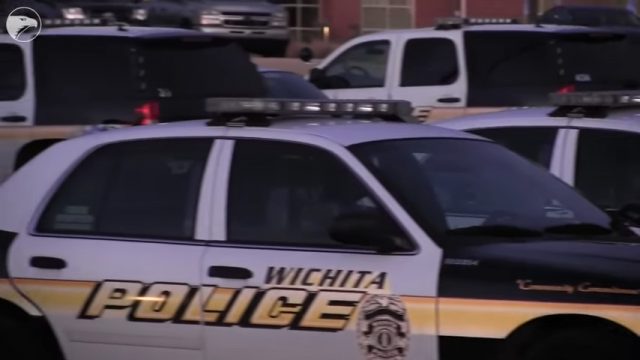 A crack marksman with the Wichita Police Department aimed for a dog and shot a nine-year-old girl in the forehead instead.
According to an article in the Wichita Eagle, officers were responding to a 911 call regarding a domestic dispute that had morphed into a suicide watch involving a firearm.
When the cops arrived, they were told that a 33-year-old man had placed a gun into his own mouth after choking a dog. That gun was then allegedly placed underneath a pillow on someone's bed.
When one of the officers moved to retrieve the gun from underneath the pillow, a medium-size dog allegedly charged at the would-be gun-finder. The dog's approach frightened the officer, who shot at the mixed-breed.
That shot missed the dog entirely. Instead, the bullet broke into fragments, ricocheting all over the place after hitting the floor. One of the fragments hit a nine-year-old girl in the face–just above her right eye.
The victim was one of three children in the home at the time of the incident. The allegedly suicidal man was ultimately cooperative with police–he later submitted to a mental health evaluation.
After the mishap, the officer–whose name has not been released–was placed on administrative leave. According to the Wichita Police Department, such leave is mandated as a matter of official protocol.
The officer in question will be investigated by his own department to determine if he acted in accord with departmental policies. The District Attorney's Office will also review the case.
[image via screengrab/Wichita Eagle]
Follow Colin Kalmbacher on Twitter: @colinkalmbacher
Have a tip we should know? [email protected]