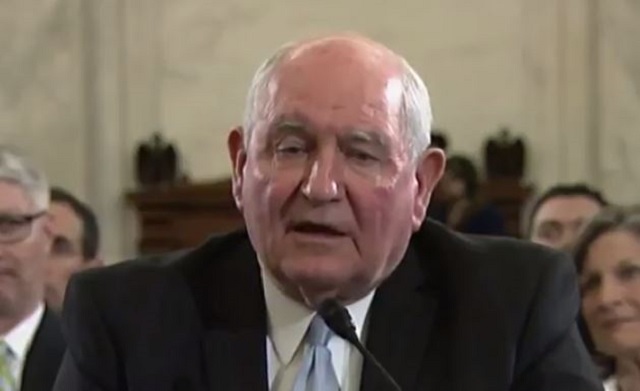 In this week's chapter of "Cabinet Members Who Do Literally the Opposite of What They Should," Agriculture Secretary Sonny Perdue has spent his first few days in office taking a firm stand against childhood nutrition. Healthy meals are apparently just for the kids of liberal snowflakes, while the offspring of solid Southern stock needs more sodium and less whole grains if it is to flourish. To prove it, Perdue issued a policy directive that says the Department of Agriculture can allow local school districts to make their own choices and ignore the ones set for them by the prior administration. In other words, when it comes to school nutrition, one step forward, ten steps back.
Some background on the whole school lunch issue: in 2010, after significant involvement by then-FLOTUS Michelle Obama and her "Let's Move" campaign, President Barack Obama signed the Healthy, Hunger-Free Kids Act (HFKA) into law. Among other things, the HFKA made the first major changes to school lunch programs in 30 years, and set some strict nutritional guidelines for what schools would be permitted to provide in their lunches and in their vending machines. The law dictated smaller portions, limited milk to nonfat flavored milk or 1 percent white milk, set maximums for sodium, sugar, and fat content in meals, and set minimums for fruit, vegetables, and whole-grain servings. Wonderfully healthy as all that sounds, there were, of course, critics. Some students and teachers complained publicly that they just didn't like the new, healthier meals – and that the smaller portions left them hungry. Some school administrators also reported major drops in revenue resulting from kids who'd rather brown-bag it than succumb to an Obama mandate on fruits and veggies. According to some sources, much of the healthier lunches ended up in the school trash, which is obviously completely counterproductive.
On the other hand, some data collected showed that following the change in standards, students had significantly better nutrition, and that the program helped create and maintain healthy habits.
None of this should be surprising. To anyone. Kids like to consume salty fries, cheesy pizza, processed chicken nuggets, white bread, and chocolate milk. Of course they'd prefer that stuff to whole grains and broccoli. The question is not whether kids would prefer to eat junk food – it's whether better nutritional standards would have positive long-term effects on our children. I don't know the secret to teaching a generation to eat better. I don't know if it's limiting salt, or banning chocolate milk, or if it's just making apples available. What I do know is that this is a complex issue, and that children's eating habits are malleable. And Secretary Perdue's policy of throwing up his hands feels a lot like the parent of a tantruming toddler giving in to outlandish requests because it's just easier.
Instead of looking at the effects the HFKA has had, keeping what's working, and brainstorming on what could be improved, Perdue simply un-did its mission. Starting next school year, schools can just ask for an exemption from the whole grain requirements and delay the sodium mandate. They will also be able to serve 1 percent flavored milk instead of nonfat. Perdue, (a two-term GOP governor of Georgia) had the following rationale for his decision to roll back the HFKA's standards:
"A perfect example is in the South, where the schools want to serve grits. But the whole-grain variety has little black flakes in it, and the kids won't eat it."
I know I'm not from Georgia, but honestly, I can't believe this guy is basing complex policy decisions on the importance of kids consuming grits. As a New Yorker, you wouldn't find me arguing that white flour is essential, because without it, kids just won't eat their bagels. I mean, if we were talking about ways to get children to eat zucchini or grapefruit, I might be interested in deterrent effect of little black flakes, but give me a break.
Former White House chef Sam Kass agreed that Perdue totally missed the mark with his top agenda item, telling POLITICO:
"Considering the deeply struggling farm economy, that climate change is making it harder to grow food and one in three kids are on track to have diabetes, one would think Secretary Purdue has more important things to worry about than making sure food in schools has a lot of salt."
Ken Cook, president of the Environmental Working Group Nutrition Advocates, similarly pointed to the Trump Administration's bad call on this directive — which seems particularly misguided in light of POTUS' own penchant for junk food:
"Just because children would rather eat heavily salted, processed foods at school doesn't mean they should," said. "The president's fondness for Big Macs and KFC is well known, but we shouldn't let Colonel Sanders and McDonald's run the school cafeteria."
School lunches are not, and should not be a political issue. The issue isn't the Trump Administration, or liberal politics, Michelle Obama, or even the HFKA. The question is simple: do we value good nutrition? If the answer is "yes," then the only acceptable task for the USDA is to find ways to make school lunches healthier, and find ways to make them work, in a practical and economic sense.
Today's children learn "you get what you get, and you don't get upset," in every corner of their lives. And the GOP has long characterized itself as the party to insist that those benefiting from government subsidies are not entitled to personal preferences. Yet, somehow, when it comes to a topic as important as children's health, this administration seems extraordinarily willing to do what's easy instead of what's best.  Unfortunately, this is just another change to be filed under "Sad, But Not Surprising."
[Image via screengrab]
This is an opinion piece. The views expressed in this article are those of just the author.
Elura Nanos - Columnist & Trial Analyst, Law & Crime; CEO Lawyer Up