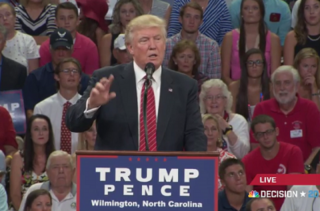 Just reading the headline that I wrote makes me shake my head at this whole election. This is where we are now, folks.
I don't like getting into the business of defending Presidential candidates during a campaign. It's not my style. But when people start accusing Donald Trump of crimes after he makes stupid comments, I'm left with no choice. I'd do the same for Hillary Clinton. Say what you will about the candidates, but enough with ridiculous accusations. Last month, the internet went crazy, saying that Trump was guilty of espionage. Now people are saying that he threatened an assassination.
On Tuesday, Trump spoke at a campaign event in North Carolina, saying that Clinton wants to abolish the Second Amendment. He went on to say that if Clinton becomes President and can nominate Supreme Court justices, there's nothing people could do about it. He then said, "although the Second Amendment people, maybe there is, I don't know."
Video—Trump: "If she gets to pick her judges —nothing you can do…Although the 2nd Amendment people maybe there is" https://t.co/eeofxE9qL4

— Bradd Jaffy (@BraddJaffy) August 9, 2016
Now people are saying Trump is calling for people to assassinate Clinton.
Oh dear.
It's not just random people on Twitter, either. Senator Chris Murphy of Connecticut and Rep. Eric Swalwell of California are treating this like Trump is actually calling for Clinton's head.
Don't treat this as a political misstep. It's an assassination threat, seriously upping the possibility of a national tragedy & crisis.

— Chris Murphy (@ChrisMurphyCT) August 9, 2016
Donald Trump suggested someone kill Sec. Clinton. We must take people at their word. @SecretService must investigate #TrumpThreat.

— Rep. Eric Swalwell (@RepSwalwell) August 9, 2016
The New York Daily News even got in on the act, citing federal law to argue that Trump committed a crime. The newspaper refers to 8 U.S.C. § 879, which says:
(a)Whoever knowingly and willfully threatens to kill, kidnap, or inflict bodily harm upon—

shall be fined under this title or imprisoned not more than 5 years, or both.
First of all, even taken at face value, Trump didn't knowingly or willfully threaten anybody with his remarks. If anything, he suggested the possibility of other people hypothetically committing a crime, and even then, he didn't call for anyone to actually do it, so it's not even solicitation.
Second, Trump was clearly joking with his comment, playing on the issue of the right to bear arms. Was it tasteless? Sure. Was it stupid? Yup. I'd even go so far as to call it irresponsible. But was it illegal? Of course not.
Clinton campaign manager Robby Mook responded in a statement which was also in the Daily News article. He said, "This is simple — what Trump is saying is dangerous. A person seeking to be President of the United States should not suggest violence in any way." No problem there, Trump shouldn't have said what he said, joking or not. But even Clinton's camp isn't calling it an actual threat on someone's life. Even the people representing the target of the so-called threat isn't saying that it's an actual threat.
There are so many valid points to make against both major candidates in this election. If you want to criticize a candidate, there's really no need to nitpick over jokes.
–
Follow Ronn Blitzer on Twitter (@RonnBlitz)
This is an opinion piece. The views expressed in this article are those of just the author.