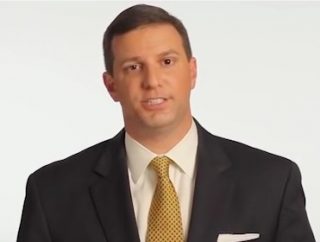 I'm not sure what's grosser – a 40-year old politician who allegedly sexts teenage boys, or one whose response after being caught is to scream, "I'm not gay!" Yep, in this month's edition of "Republican Legislators and Their Illicit Sex Lives," Mike Yenni, the Parish President (that's just the name of a political subdivision, not a religious parish) of Jefferson, Louisiana allegedly sent multiple lewd text messages to a 17-year-old student. If that wasn't quite enough, multiple sources and the boy himself reports that Yenni also presented the teen with a pair of underwear as a "graduation gift." Oh, and (according to the boy's first-hand account) Yenni also kissed him during one of his visits to the local mall where the boy worked.
Don't worry. Apart from all of this, Yenni is otherwise the consummate family man; he's a father to a four-year old daughter, and husband to wife Michelle, who will reportedly be standing by her man.  In a local news interview about the scandal, Yenni said that he "really can't answer" why he sent the series of text messages to the teenager that sparked an FBI investigation. According to Yenni, it was simply "a stupid action."
In Yenni's televised interview about the scandal, he focused primarily on the blog post entitled "I was Seduced by a Politician," which revealed his part in the sexting scandal. Yenni spent the majority of his airtime detailing reasons why that blog post didn't accurately capture the nature of his relationship with its teenage author. "It was a story written for monetary purpose," Yenni defended.  When the interviewer pressed, "yes or no, did you buy him underwear?" Yenni bobbed and weaved his way into some word soup, until he landed on "the important thing is that there was no sex."
Here's the thing, though. That's actually not what's important. What matters, from a legal, moral, and practical standpoint, is whether Yenni victimized a teenage boy. Although 17 is above the age of consent in Louisiana, the boy's account of his months-long relationship with Yenni tells the tale of an improper and uncomfortable affair. I get that Yenni's masculinity is threatened , but whether he's gay is pretty far from the point. Homosexuality may be tantamount to criminal activity in the land of Republican Louisiana, but those of us who have gotten our heads out of the bayou are far more concerned about predatory behavior. Whether Yenni's actions constituted actionable sexual harassment, or whether they're simply predatory in a more general sense, it sure sounds like he took advantage of his powerful position with this kid. I don't care (and neither should Yenni's constituents) about Yenni's sexuality. I care about the extent to which he used his position of power to influence another, much younger, much less savvy person.
Other officials in Jefferson Parish are doing their best to hold Yenni to accountability. Jefferson Parish Councilman at-large Chris Roberts and council Chairwoman Cynthia Lee-Sheng drafted a letter calling for Yenni's resignation.  The county coroner, assessor, and clerk of court Jon Gegenheimer in demanding Yenni step down.  The website Recall Mike Yenni  has gained some momentum as well.
But Yenni seems unlikely to leave the power and spotlight of political office on his own.
"I will work hard every day to prove that good people can rise from a bad decision," he says. "I'm certainly not afraid of the future because I'm smart enough never to repeat the past."
I get the sentiment. But from where I sit, nothing Yenni does proves a damn thing about what "good people" are capable of doing. He can shout from the rooftops that he's "good," that he's straight, and that he's "smart" – but it would be good if Louisiana citizens made sure those rooftops weren't attached to government buildings.
[image via Nola]
This is an opinion piece. The views expressed in this article are those of just the author.
Elura Nanos - Columnist & Trial Analyst, Law & Crime; CEO Lawyer Up