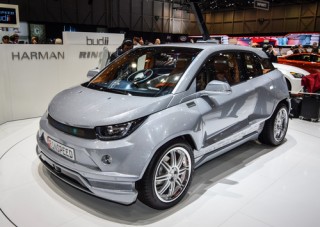 Despite all the ways driverless cars will make our roads safer, less congested and more accessible, at the moment the biggest roadblock, ironically, seems to be a government agency tasked with keeping our roads safe.
That would be California's Department of Motor Vehicles, which in December issued draft regulations mandating that autonomous vehicles be operated by a licensed driver who could take over if necessary. That driver would also be on the hook for traffic violations. The full draft regulations can be found on the California DMV website.
The rules pose a huge potential setback for companies developing driverless technology, such as Google, which sees removing human reactions and attention, or inattention, as a main benefit of self-driving vehicles. Google is focused on producing a fully autonomous car, and its prototype lacks pedals or a steering wheel, although Google adds them when testing on public roads.
If California sticks to the stringent regulations, it can sit back and watch motorists in other states get autonomous cars first, Dr. Chris Urmson, Google's Director of Self-Driving Cars, told a state DMV panel at a packed public hearing last month at Sacramento State University.
"On the basis of the DMV's proposed regulation we are discussing here today, it will not be available to California," Urmson said, according to Sacramento news station KCRA.
"We need to be careful to make the assumption that having a person behind the wheel will make the technology more safe," Urmson added. "It's a generally understood problem with people monitoring for long durations of fairly robust technology. They do it poorly. Failures result from it."
The DMV explains that vehicles without a driver and steering wheel haven't been tested enough to remove those controls.
"Given the potential risks associated with deployment of such a new technology, DMV believes that manufacturers need to obtain more experience in testing driverless vehicles on public roads prior to making this technology available to the general public," the agency has stated.
California's own lieutenant governor, Gavin Newsom, also opposes the DMV's rules.
"These latest draft regulations may prove too onerous, create roadblocks to innovation, and may ultimately drive the development of this promising industry to other states," Newsom said in a statement.
Perhaps the most vocal critics have been blind travelers like Jessie Lorenz, who says she test-drove an autonomous vehicle at Google's campus in Mountain View, Calif.
"I am a single mom to a beautiful little girl who starts kindergarten in September," she said at the public hearing in Sacramento, according to KCRA. "I want to be able to drive my little girl to play dates instead of taking public transportation."
At a similar public hearing this past Tuesday in Los Angeles, the city of endless traffic and freeways, I joined the chorus of AV advocates pushing for language that contemplates, anticipates and allows for the innovation of technology. I am an automotive and transportation attorney for The Scali Law Firm, which represents auto dealers, 3PLs, moving and storage and rental vehicle companies across the state.
Brian Soublet, the DMV's Deputy Director and Chief Counsel, suggested that I offer my own version of the regulations.
I got the impression that the DMV is, for now, committed to the big picture items in the proposed regulations, but would consider less restrictive language.
A day after the Los Angeles hearing, Google publicly shared that it's upping the ante in its testing and programming of driverless cars by expanding its test program further up the coast to Kirkland, Wash., where the cars will have more opportunities to drive in the rain than in sunny California.
According to The Seattle Times, their state has no laws about autonomous vehicles, and both Gov. Jay Inslee and Kirkland Mayor Amy Walen have welcomed Google's trials.
Many advocates for a swift evolution to autonomous cars hope the federal government creates permissive regulations superseding such state-to-state inconsistencies.
At last month's Detroit Auto Show, Transportation Secretary Anthony Foxx shared that the federal government is willing to exempt up to 2,500 vehicles industry-wide from some auto safety standards for up to two years, which could help Google get its self-driving cars on U.S. roads.
Foxx said the federal government would expedite regulatory guidelines for autonomous vehicles and set further guidelines within six months.
It's not clear how the states will follow the national guidelines and what impact this may have on California's regulations, but it signals that Google (and other testers of totally autonomous vehicles) will have options.
John Swenson submitted this editorial to LawNewz.com. He is a Senior Associate Attorney at The Scali Law Firm
This is an opinion piece. The views expressed in this article are those of just the author.