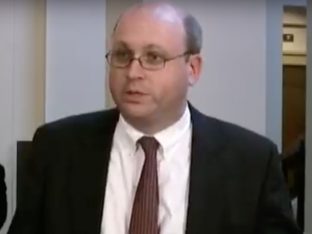 Marc Elias is a well-known top Democratic Party attorney who is involved in several high-profile recount efforts this election season.  What makes Elias's participation particularly noteworthy is that he is calling for the end of a Republican led recount in North Carolina, while arguing the three other recount efforts in Pennsylvania, Wisconsin and Michigan (that could help Hillary Clinton) should be allowed to proceed.  It is such a patently obvious display of partisanship and hypocrisy that it may make even a true political hack like Harry Reid blush.
Elias penned a blog post on Medium over the weekend in which he explained how after the shocking Election Day loss, the Clinton campaign received hundreds of calls to "investigate claims that the election results were hacked and altered in a way to disadvantage Secretary Clinton." He further explained the exhaustive measures the campaign undertook to investigate these allegations, before ultimately concluding they "had not uncovered any actionable evidence of hacking or outside attempts to alter the voting technology."
After spending a majority of the post essentially explaining all of the reasons the Clinton campaign determined a recount was unnecessary, Elias nonetheless concluded that the campaign "intended to participate [in Jill Stein's recounts] in order to ensure the process proceeds in a manner that is fair to all sides."
So, over the weekend Elias is all for moving ahead with participating recounts — even in the absence of verifiable signs of fraudulent votes or hacking.
Then we get to Monday morning and Elias takes to Twitter to comment on the situation in North Carolina where Republican Governor Pat McCrory initiated a recount after the final vote showed he trailed Democratic challenger Roy Cooper by 4,772 votes. Being a Democratic Party super lawyer, Elias is also member of Cooper's legal team.  So, when he seemingly received news that Cooper's lead had grown to over 9,000 votes, he suggested it was time for McCrory to call off the recount.
Cooper's lead in NC is now 9,133. McCrory should concede. https://t.co/xE64aS9n7T

— Marc E. Elias (@marceelias) November 28, 2016
Elias' reasoning seems to be that the margin is now far too wide for McCrory to make up the difference in a recount effort, so he should drop it and move on. Yet, he does not feel the same way when it come to his own client.  In fact, looking back at his Medium post from just 48 hours before his tweet, Elias admits the vote difference between Clinton and Trump in all three states far exceeds anything that could be realistically made up in a recount.  Elias wrote:
We do so fully aware that the number of votes separating Donald Trump and Hillary Clinton in the closest of these states — Michigan — well exceeds the largest margin ever overcome in a recount. But regardless of the potential to change the outcome in any of the states, we feel it is important, on principle, to ensure our campaign is legally represented in any court proceedings and represented on the ground in order to monitor the recount process itself.
While it is technically true that Elias did not initiate the Stein recounts, he sure as heck did not do anything to stop them. He did just the opposite, legitimizing Stein's efforts by providing his support.  If Elias truly believes the margin is too large for McCrory to go through with a full recount, there is no justification on earth for supporting or even participating in the Stein recount.  Except, of course, if Elias and perhaps Clinton herself were looking for a way to challenge the election results all along.  Doing so under the guise of the Stein initiated efforts sure provides the necessary cover.
[image via screengrab]
This is an opinion piece. The views expressed in this article are those of just the author.