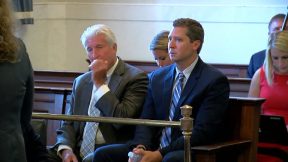 A judge in Cincinnati on Monday dismissed the charges against a white police officer who fatally shot an unarmed black motorist during a traffic stop, after a county prosecutor declined to pursue a third murder trial in the case.
Hamilton County Judge Leslie Ghiz declined to acquit former University of Cincinnati officer Ray Tensing in the shooting of Sam DuBose, but she dismissed the murder and voluntary manslaughter charges in a way that blocks retrial on those counts.
"It's sort of a note of finality, which is what we were looking for, although we still have the potential for a federal civil rights investigation," defense attorney Stewart Mathews said afterward.
Two juries couldn't reach unanimous agreement on the state charges, leading to mistrials. County Prosecutor Joe Deters said he felt "badly" about dropping the case but had concluded that he wouldn't be able to get a jury to convict Tensing.
Tensing, now 27, shot the 43-year-old DuBose in the head after pulling him over for a missing front license plate on July 19, 2015. The shooting is among numerous cases nationwide that have called attention to how police deal with blacks, and it highlights the challenges prosecutors face in getting jurors to convict police officers for shooting when they say they're under threat.
Tensing, who was fired after the shooting, testified at both trials and said he feared he was going to be dragged or run over as DuBose drove away.
An expert hired by prosecutors said his frame-by-frame analysis of Tensing's body camera video showed Tensing wasn't being dragged by the car.
DuBose's family and civil rights groups wanted a third trial. They now are hoping that federal authorities reviewing the case will determine that DuBose's civil rights were violated.
U.S. Attorney Benjamin Glassman said authorities will review evidence from the state court trials to assess whether there are possible federal civil rights offenses that might warrant prosecution.
Mathews said Monday that he hadn't been contacted by federal authorities.
The university reached a $5.3 million settlement with DuBose's family, including free undergraduate tuition for his 13 children.
Have a tip we should know? [email protected]