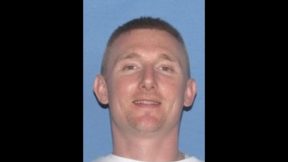 An Ohio man has pleaded guilty to a charge of first-degree murder in the shooting death last year of a New Mexico police officer.
The Las Cruces Sun-News reports (http://bit.ly/2qBZdYp) that Jesse Denver Hanes entered the plea Wednesday in state district court in Las Cruces. The plea was part of an agreement with prosecutors in which six other charges were dismissed.
Hanes' plea in state court comes a day after he agreed to plead guilty to federal firearms and carjacking charges related to events that followed the Aug. 12 shooting of Hatch policeman Jose Chavez during a traffic stop.
Hanes will be sentenced in the state case in about 90 days, after federal sentencing. In both cases, he faces life in prison without the possibility of parole. The sentences can be served concurrently.
Have a tip we should know? [email protected]